I really don't know what week it is anymore, and it doesn't matter, so without further ado, it's the Weekly Update!
Standings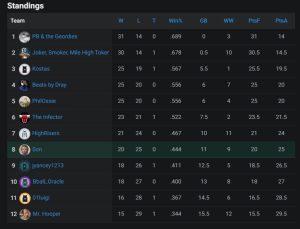 PB and G is the cream of the crop, he rose to the top, he never eats a pig cuz a pig is a……………okay, whatever, I play the guy this week!  Talk about a House of Pain. He is followed closely by JokerSmoker, then a glob of four who are close, then another glob of the rest who are trying to claw their ways up out of the gutter like Elon Musk's Twitter.
Team Focus
Kostas has a solid squad at the moment, running in a solid third place.  In the money!  The Razzball salaries are obviously quite high so I'm guessing the pot for this league is very high.  Back to Kostas.  He's dominating the points and percentage categories, is very weak in 3s and TOs, and middling in rebounds and assists.  This seems strange, doesn't it?  Usually you see scoring and 3s together.
Maybe shooting 3 pointers isn't always a great strategy?  He's got Kevin Durant and De'Aaron Fox leading the charge at over 25 PPG.  Jimmy Butler is not far behind these two.  Where Kostas has succeeded is putting together an entire roster of competent NBA players.  11 guys are all averaging over 13 PPG and only Tyus Jones is below that.  In a head-to-head format, this is a great way to complete a roster.
My only issue is there is some obvious risk here.  Malcolm Brogdon, Gordon Hayward, Kevin Durant, Jusuf Nurkic, Jimmy Butler, and Jamal Murray are all gonna miss some time, as they always do.  His key will be to avoid that happening in the same weeks.
Solid team though!
Interesting Pickups:
I saw Yuta Watanabe get picked up and instantly thought it was that French kid who apparently is gonna redefine basketball, so that's where my head is at!
It's injury replacement week in the Razzball Writer's league!
Philly:  Lost James Harden and Tyrese Maxey for a while.  Luckily for fantasy owners, they will continue to play basketball as we move forward.  De'Anthony Melton was the clear pickup here.  He's always been productive in his minutes.  Now we'll see if that is due to limited exposure, or if he can keep that production level up with more responsibility.   Shake Milton is another add, not the same upside and I would make Melton the priority add over Milton.  Ha ha, made you go back and read to see which one I'm talking about!  It's a Melton-Milton backcourt!
Memphis:  Lost Ja Morant and Desmond Bane, making Tyus Jones an instant grab of course.  I would, in deeper leagues, keep an eye on John Konchar (not Koncak, what is this NBA Live 95?) and his beautiful contributions in rebounds for a guard.  They won't be out long, so not a long term solution, but they will be good for a week or two if you are in need of guards.
Pistons:  Cade Cunningham and Isaiah Stewart are out for an extended time. Injurpocalypse.  I have a few takeaways from yesterday's game vs. the Kings as to who to pick up.  Marvin Bagley is my preferred target and my favorite to increase his output due to absences.  He had 15-6 yesterday and I think that's about what to expect going forward.  He could help your FG%, but tank your FT% and not add much else there.  If you need a body, he's an option.  Jalen Duren is an intriguing guy and I think he'll improve as the season goes on.  12 points 8 boards is his ceiling for now, but monitor the guy if he starts adding blocks to his game.  I'm ignoring Alex Burks and Kevin Knox unless they show some more.
Orlando:  Lots of their big guys missing time.  Mo Bamba, if he's available, can be a solid choice for games that Paolo Banchero and Wendell Carter Jr. miss.  Carter has a plantar fascia issue and will probably miss time here and there for that.  He hit four threes against the Bulls and put up 21-9 with 2 steals and a block vs. Pacers.  Probably should get that guy.  Bol Bol's minutes also look secure for the near future.  That guy doesn't look real out there, does he?
https://www.espn.com/video/clip?id=35042462
Good reminder to watch the injury reports in competitive leagues.  For example, if Marcus Smart goes down, that should trigger a response to find out who gets dem minutes.  In this case it's Derrick White.  If Pascal Siakam goes down, Thaddeus Young gets minutes?  Get that guy! It's obvious but that's what the top teams are doing.
No new trades this week.  After my reboot, I went 9-0!!!!!!!!!  Sorry Luigi.
NBA Drama of the Week
Ladies and gentleman, the Chicago Bulls!  As a Bulls fan, I felt the optimism for this season was unwarranted.  What team ever wins with two isolation scorers and a non-athletic center who doesn't play defense?  Well, they're 6-10 and lost to the lowly Magic.  That's bad enough, then this happened
https://www.espn.com/nba/story/_/id/35057292/late-benching-bugs-bulls-zach-lavine-play-guy-me
Okay, apparently the guy shooting 1-14 is going to throw the coach under the bus for taking him out.  Zach LaVine has been a shell of himself this year, not driving or finishing well.  He used to dunk everything.  He's now doing step-back 3s and short-arming layups.  Defense………..um, let's just say they target him on every switch.  So if you're not scoring, not passing, not hitting Vucevic with a guard on him in the post and shooting contested 3s, yeah.  Sit down and wear it LaVine.