Standings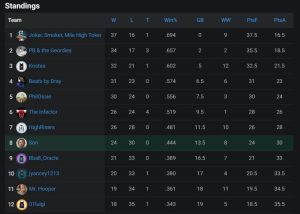 Games of Note
JokerSmoker cemented his first place standing with a victory over Luigi, who may or may not be AWOL since he hasn't checked in a week.
PB and G had a weird 3-3-3 tie, what are the odds of that?
Seems like the top teams played the bottom teams, and the results held to societal norms.
Team of the Week:  Beats by Dray, great in fantasy and I hate it in real life.
Aside from having the best team name I've seen in any league anywhere, Beats has a great team that he's assembled.  I am worried about his guards, though.  Kevin Porter Jr. has maturity issues and is on the tank squad in Houston.  And speaking of tank…..that guard lineup of Porter, Terry Rozier, Benjamin Simmons, and D'Angelo Russell would have me up at night in a cold sweat.  Okay, I exaggerated.  It would make me worried while on the toilet though (more on that later!)
His stable of big guys is populated with many of the guys I wanted.  Zion Williamson is my favorite player in the league to watch.  That is not a fantasy category, unfortunately, or else Alex Caruso would be a first round pick and Ben Wallace, back in the day, would be a Hall of Fame player.  (I know he made it, I don't want to rewrite that last sentence).  Evan Mobley should increase his production as the season goes on.  While no slouch at 14-9 with over a block per, the talent level should let him take most of Jarett Allen's production sooner rather than later.  I would deal for Mobley now if you can.
Same for Rudy Gobert.  Real life, this trade was probably not a great one.  He's averaging 13-13 but his blocks are down.  Maybe teams have figured out that Karl-Anthony Towns doesn't have the athleticism to guard people and they attack him instead of the Stifle Tower.  I'd get Gobert if there's a discount, but not at original cost.
Weird side note here:  Beat's guards have so many tattoos!  But his big guys don't have them!  The tattoo-to-player ratio is normalized.  Freaking Terry Rozier has one on top of his head!  Gary Trent Jr. is inked up, DLo is as well as Porter, and Kelly Oubre has a ton.  Zion, Gobert, Mobley, and Simmons don't! This obviously has nothing to do with anything except for my entertainment and spending 30 minutes Googling player tattoos.  Time to clear the search history for sure.
Transactions of Note
Seth Curry:  I've been a fan of his since his college days at Duke.  A rare four-year college player, Seth has built himself an impressive NBA career and has long been a great target for 3s and percentages.  The younger Curry (who is somehow 32!) was left on the waiver wire due to ankle surgery. His last eight games have been great after a slow start.  Seth is averaging 15 points per game over this time frame.  His last two consisted of  4 and 7 3-pointers, prompting a genius owner to run and pick him up for his inevitable 4-point stinker.  But finding this guy on the waivers should be a season-long keeper.
Caleb Martin and Jarred Vanderbilt:  Both of these guys were dropped on Thanksgiving Day.  I somehow missed this despite hiding in a bathroom on my phone to avoid conversations with both my parents and my in-laws for hours on end.  I'm very mad at myself.  Vandy fits my punt-points build and get boards and blocks, and Martin has scored over 20 in three straight.  Martin is an injury replacement for Jimmy Butler, so he should be fired up until Buckets gets back.
Marvin Bagley the Third:  I've been wondering if he would be a later career bloomer.  Sometimes high school stars and one year college guys take time to peak.  Bagley is only 23 and is in a much better organization than the one he was drafted to in Sacramento.  It's not his fault he was picked over Doncic. His last three games have been interesting.  With increased minutes have come increased production.  I look for him to keep minutes in the high 20s, with solid percentages and a few games of board production mixed in.  Unfortunately, ol' Marv won't be a defensive numbers guy but, as the last guy in your rotatio,n give Bags a shot.
Walker Kessler:  He won't be relevant in any but the deepest of leagues.  I just thought it was funny he was picked up and dropped within hours of each other.
Final Thoughts:
Thanks for reading, and let me know if you've added any of these guys this season!