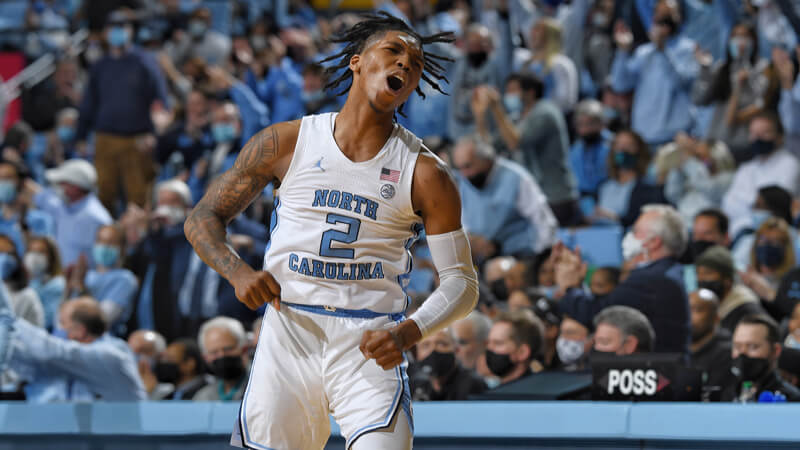 Indiana will look for its seventh straight win to begin the season when it hosts North Carolina Wednesday night. The Tar Heels are 5-2 and ranked No. 18 in the latest Associated Press top 25 poll.
Wednesday's game is set for a 9:15 p.m. ET tip on ESPN:
The second of Indiana's four major non-conference games tips tonight in Bloomington. North Carolina, the preseason No. 1 team in the Associated Press top 25 poll, comes to Assembly Hall on a two-game skid.
The Tar Heels dropped games to Iowa State and Alabama in Portland over the weekend and dropped 17 spots in the AP poll. North Carolina's final game in Portland, a loss to Alabama, went four overtimes.
While it won't be No. 1 coming to Assembly Hall, Wednesday night should provide another terrific late-night atmosphere on Branch McCracken Court.
MEET THE TAR HEELS
North Carolina's run to the national championship game last spring came as a No. 8 seed and included wins over Marquette, Baylor, UCLA, Saint Peter's and Duke. It would have been hard to create a better scenario for first-year coach Hubert Davis. The UNC grad beat Duke at Cameron in Mike Krzyzewski's final home game and ended Coach K's tenure in the Final Four.
North Carolina returned four of its five starters from last season's national runner-up team and added Northwestern transfer Pete Nance to replace the graduating Brady Manek.
What's missing right now for the Tar Heels is depth. Davis doesn't trust his bench and is playing his starters heavy minutes through seven games. The numbers are a bit skewed because of the four-overtime game, but all of UNC's starters are averaging at least 30.9 minutes per game and four of them are averaging 34.4 minutes per game or more.
The UNC attack is spearheaded by the guard duo of Caleb Love and RJ Davis. Both players had IU offers out of high schools and were recruiting targets for the Hoosiers under Archie Miller.
The 6-foot-4 Love already has four games with 20 or more points this season and scored 34 in UNC's double-overtime loss to Alabama. His 20 points per game lead the team, but Love is shooting poorly from the perimeter through seven games. After connecting on 36 percent of his 3s last season, Love is shooting only 24.5 percent from distance this season. He's an excellent free throw shooter – 83.7 percent for his career – and is also making more than 53 percent of his 2s this season.
The 6-foot Davis is also struggling from the perimeter through seven games. He shot 36.7 percent from distance last season, but is shooting just 27.8 percent this season. Davis is third on the team in scoring at 15.7 points per game and has 22 assists compared to 13 turnovers, which isn't a great ratio. Neither Davis or Love are pure point guards and both are capable of going off from the perimeter if they make a couple of shots early.
Freshman Seth Trimble was a top 40 recruit from Menomonee Falls, Wisconsin, but is on the fringe of the rotation right now. The 6-foot-3 Trimble is averaging just 11.3 minutes per game. In the limited run he's received, Trimble is shooting 46.2 percent from the field on 13 attempts. Figuring out a way to get Trimble more integrated into the rotation could be beneficial long-term for North Carolina to avoid wearing down Love and Davis as the season progresses.
The starting frontcourt for UNC features Armando Bacot, Nance and Leaky Black.
Bacot is one of the nation's premier big men, but his ankle isn't currently 100 percent. The 6-foot-11, 235-pound forward said he felt "sharp pains" in his ankle during the Alabama game. Through seven games, Bacot is averaging 16.7 points and 11.3 rebounds per game. He's one of the nation's best rebounders. Last season, Bacot led the ACC in both offensive and defensive rebounding percentage. He's shooting 57.6 percent on 2s and 67.2 percent from the free throw line.
Black is one of the nation's top wing defenders who can guard multiple positions. He also appeared a bit hobbled in the Alabama game as he went to the bench with a turned ankle, but came back in. Black is shooting 41.2 percent on 3s on limited attempts and is shooting 61.5 percent on 2s. He's fifth on the team in scoring at 8.7 points per game and second in rebounding at 7.1 per game.
The 6-foot-11 Nance is familiar with Indiana and the Big Ten from the four seasons he spent at Northwestern. Nance is shooting 41.7 percent on 3s, 64 percent on 2s and 80.8 percent from the free throw line. At 6-foot-11, he can also guard multiple positions and gives the Heels versatility up front.
Puff Johnson is the only bench player besides Trimble averaging in double-figure minutes. The 6-foot-8, 200-pound forward is averaging 5.5 points and 2.5 rebounds, but has only played in the last four games after starting the season with tightness in his knee. Johnson played 48 minutes against Alabama.
TEMPO-FREE PREVIEW AND THOUGHTS ON THE MATCHUP
All national rankings on this chart are valid through Monday's games.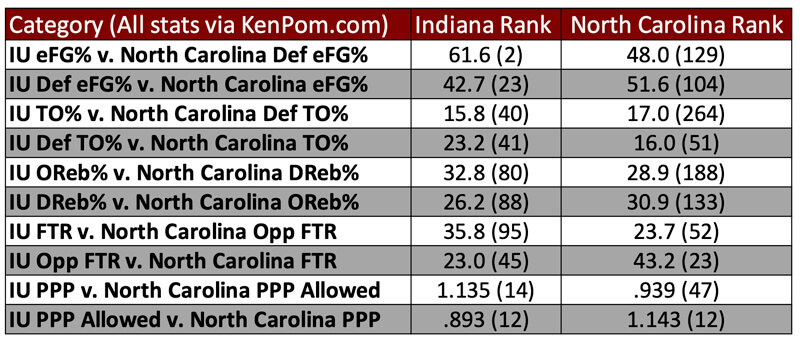 North Carolina is an elite offensive team that will test Indiana's defense. The Hoosiers were shaky defensively in an 81-79 win at Xavier as they surrendered 1.11 points per possession to the Musketeers.
The Tar Heels are a talented, battle-tested group that won't be intimidated by the environment in Assembly Hall. That said, it's fair to wonder what North Carolina will have left in the tank after its trip to Portland along with potential injury issues. Bacot was hurting enough that he was on the bench late in the Alabama loss. Health and fatigue could certainly be a factor for the Tar Heels.
The keys for the Hoosiers are keeping Bacot off the offensive glass and containing the duo of Love and Davis. Neither guard has shot it particularly well through seven games, but it's only a matter of time before that changes.
WHAT IT COMES DOWN TO
The KenPom projection is Indiana by six with a 70 percent chance of victory for the Hoosiers. The Sagarin ratings favor Indiana by 7.5.
At the various sportsbooks, Indiana is a 4.5-point favorite at FanDuel, 5.5-point favorite at Caesars, 5.5-point favorite at BetMGM and a 5-point favorite at DraftKings.
This is a critical game for Indiana to win. The Hoosiers already have a sure-fire Quad 1 win at Xavier on the ledger and a win over the Tar Heels would have staying power on the NCAA tournament resume.
Besides the Xavier game, Indiana's non-conference schedule has been soft and things are about to heat up with a neutral-court game against Arizona and a road trip to Kansas. Indiana has the advantage of playing at home with four full days of rest between games and this is an opportunity the Hoosiers need to seize to close out the month of November.
(Photo credit: North Carolina Athletics)
Filed to: North Carolina Tar Heels