Welcome to the seventh installment of Weekly Yinteresting Thoughts (WYT). In these posts, I'll be sharing some of my random thoughts, opinions, and questions about the NBA landscape as it pertains to fantasy basketball. Feel free to drop your comments and questions below! Let's get started.
This week, I am writing about injuries. They're an unavoidable part of the game and are impossible to predict, so it's handy to know how to navigate these tricky situations. Usage vacuums need to be filled, so be on the hunt for good situations. Kyle Anderson is a nice pickup for the recently injured Karl-Anthony Towns. Killian Hayes has been providing top-100 production over the past two weeks with Jaden Ivey and Cade Cunningham out. Trey Murphy is a sniper who will provide value whenever Brandon Ingram misses games. And let's not forget Dennis Smith Jr.'s incredible run earlier this season when LaMelo Ball and Terry Rozier missed games.
Of course, sometimes it's hard to recover from multiple injuries to your fantasy studs. Take a look below at two of my friends' teams. Or rather, what's left of them.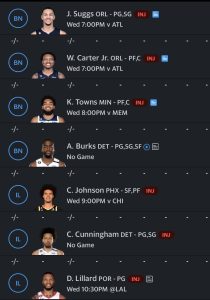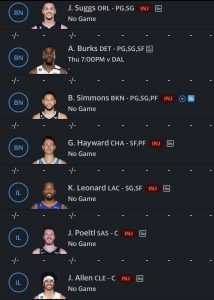 After a certain point it's nearly impossible to stay competitive because too much production is missing. In these cases, managers could even consider benching their players early in the week, if they get lucky and manage to grab invulnerable percentages (55% field goal or higher, 90% free throw or higher). It may feel bad to concede your week without even trying, but if you're so banged up that you can't field over a third of your roster, then it's time to swallow your pride and take the 3-6 loss by winning the percentages and turnovers. Otherwise, you risk losing every counting stats category while also losing in the percentages. Disastrous.
This year hasn't been as bad as last year so far – *knock on wood*. The dreaded health protocols from last season were a frequent disruption to nearly every roster and prompted many league commissioners to change some IL spots to IL+, which allows managers to IL players who are simply tagged with "Out", "Game-time Decision," or "INJ." We could even discuss small value boosts given to players who frequently sit back-to-backs. Those guys may gain some value in leagues with IL+, and since fantasy basketball is a game of inches, those differences and boosts in value matter. 
NBA injury plot. Games missed by injured players and health protocols versus team wins. Bubble size represents cumulative quality of players lost for games (Lost-ws metric) pic.twitter.com/kbrKsDPOpi

— Man Games Lost NBA (@ManGamesLostNBA) November 28, 2022
To take a glass half full perspective, some of my streamers have been performing well enough to be must-roster status on my teams. Shoutout to Aleksej Pokusevski. Shoutout to Marvin Bagley. How healthy have your squads been doing so far? How have you been coping with injuries? Let me know your thoughts below.