Founded in 1922, the private club has served as a hub for generations of Pointe-Claire tennis players.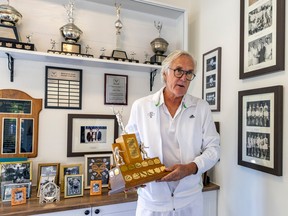 Article content
The Valois Tennis Club, one of the oldest sports clubs in the West Island, is celebrating its centennial anniversary.
Article content
Founded in 1922, the private club has served as a hub for generations of Pointe-Claire tennis players.
Article content
It's modest clubhouse at the corner of Summerhill and Queen avenues is filled with old trophies and photos of past members clad in their tennis whites, serving as a time capsule for the club's incredible 100-year history in Pointe-Claire.
Tom Brown, the club's 73-year-old facilities manager, has been a member of VTC for 45 years, nearly half its existence. He joined in 1977 and knew many of the members from the club's heyday in 1940s, 50s and 60s. He recalls many of the names on the old Johnson Trophy, donated by the Valois Drug Store and awarded to the club's men's singles champion. "Bernie Bastien (1958), Will Tibbitts (1959), Takis Doucas  (1960), John Tibbitts (1967) …"
Article content
He also mentioned Claude Ranger and Stu Gamble as key club players/builders.
"All these folks added something and left something for the next generation," said Brown, scanning the old photos and plaques on the clubhouse wall.  "They were all custodians. They were all caretakers of this facility. It's quite a legacy because basically we've survived decade after decade after decade and we always get better."
Brown said Will Tibbits, who died in 2011 at age 95, was also a past president and a key figure at the club. "He was a good friend, mentor and my VTC historian and through his guidance I became the next generation of that group."
The club is nestled into a quiet neighbourhood of Pointe-Claire and Brown says one could easily be unaware it existed.
Article content
"If you bought a house three blocks away, it might take you years to find it," he said.
Club president Sandra Crombie said the VTC is a hidden gem in Pointe-Claire.
"I lived in Valois for 30 years. I used to be walk by every day and see people having so much fun. I said, 'One day I'm going in there' and I did," she said.
Crombie said the club still meets the needs of both recreational and competitive players. "Tennis keeps you younger,'"  she added.
Today, the non-profit club has about 250 members, including some 60 junior players.
"All come from new families in the area. It's great that our numbers are going up," she said.
The club also remained open and thrived during the pandemic, noted Crombie. "Even through COVID it was a safe place. You were still allowed to play singles."
Article content
It cost $190 for a single membership, $350 for a family membership. The club is open from May thru October and there are no court fees, said Crombie.
"It's the best deal in Quebec," said Brown, who lives across the street from the club and  literally keeps an eye on the facility, which boasts five clay (Har-Tru) courts.
"We have some of the best tennis courts in all of Montreal here," he said.
Aside from the tennis, some members gather in the clubhouse for a weekly game of bridge.
Showers were added to the clubhouse this past year, just in time for centennial celebrations which culminated recently with a rousing 100-year bash. The  event was attended by 120 patrons, as well as Pointe-Claire Mayor Tim Thomas.
Many former members, including some who live out-of-province, made it back for the centennial celebration. "My 1980 tennis team all showed up," said Brown, who still hits a good forehand.
'And the centennial celebrations will continue," he added.  "We're a 100 years in and we have a lot of celebrations, whether it's a barbecue, a team championship or just people hanging around on a Friday afternoon and celebrating.
"Hopefully, we'll be around for another 100 years," he said with a smile.