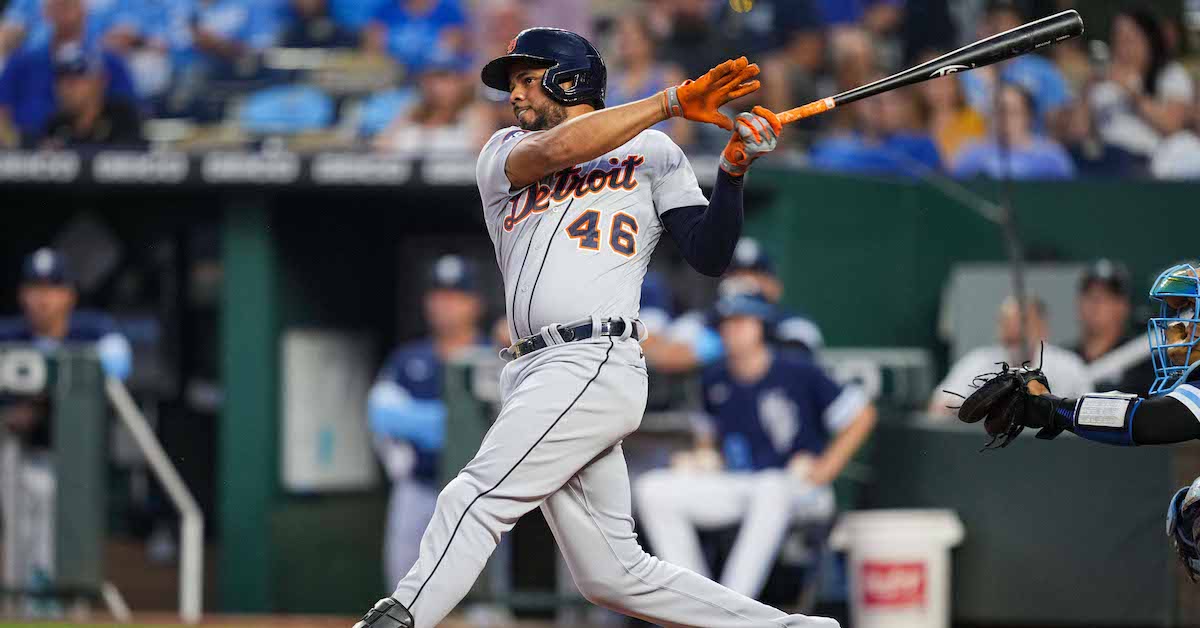 The Nationals aren't going to make the playoffs in 2023. They probably won't even sniff .500; unsurprisingly, the team that traded Juan Soto along with everything that wasn't nailed down this past season isn't quite ready to compete for division titles. That doesn't mean they shouldn't try to get better, though – when the next generation of Nationals stars reaches the majors, the team would prefer to have some major league pieces already in place, mirroring the vaunted Cubs and Astros rebuilds of the 2010s. To that end, the Nationals made a signing I absolutely love yesterday, snagging Jeimer Candelario on a one-year deal worth $5 million, with $1 million in incentives.
Before the 2022 season, no one would have believed you if you told them Candelario would be a free agent this winter. In 2020 and '21, he hit a combined .278/.356/.458, good for a 125 wRC+. He backed that up with decent defense at third base; all told, he looked like a comfortably above-average player carried by his bat. Then came 2022, an abject disaster; over 124 injury-interrupted games, he hit .217/.272/.361 and saw pretty much every statistical indicator tick downwards. The Tigers chose to release him rather than go through arbitration, which MLB Trade Rumors estimated at roughly $7 million.
For the 2020 and '21 versions of Candelario, that would be a bargain. Quite frankly, I still think it would make sense after his poor 2022 season. The Tigers didn't share my assessment, valuing the combination of money and roster space as more important than retaining his services. I'm not quite sure I understand it – they currently have two open spots on their 40-man roster and no in-house third baseman – but their loss was Washington's gain.
There are two different ways to handle your major league roster when you're playing for the future. First, you can give unheralded prospects the chance to succeed in the major leagues. You've seen teams pull this off; Joey Meneses and Mike Yastrzemski are recent examples, and Jose Altuve is at least kind of an example of this, though he was probably a little too good as a prospect to count. The idea is simple: teams can estimate how well their hitters will fare when promoted to the majors, but they can't know with certainty, so trying out guys whose median projection isn't quite good enough might yield some unexpected successes. If you give five players who you think each have a true talent level just below major league average a shot, the odds are good that your estimates were wrong on at least some of them. If you underestimated, congratulations! You've just found an everyday player or two.
Another option: sign some veterans and hope they rebuild their value with consistent playing time, either as trade chips or as future part-time contributors. This is particularly common with pitchers – think Martín Pérez and José Quintana this year, among many others. You might get a new piece of your contending rotation, like the Rangers, or unexpected trade returns, like the Pirates. You might also get nearly nothing, like countless pitchers who sign one-year deals and don't perform. But that's an acceptable tradeoff when a poor signing might only be the difference between 68 and 66 wins.
The Nationals seemed to misunderstand that prompt last year. They gave a ton of playing time to the likes of Maikel Franco, Ildemaro Vargas, and Alcides Escobar. Those three weren't part of any solution, either in 2022 or for the future. They combined for 715 plate appearances that could have gone to players with some upside, and Dee Strange-Gordon and Ehire Adrianza got in on the act as well.
There's not a lot of question about how good Franco and Escobar are at this point in their careers; they're roughly replacement level, and delivered just that. Vargas might be a bit better than that, but I'm skeptical. The Nats gave plenty of playing time to more interesting players – Meneses is a great story, and Eric Longenhagen and I continue to lead the Yadiel Hernandez fan club – but there were simply too many plate appearances to soak up given the thin Nationals farm system.
I'm using negative words to describe Washington's plan, but in reality, I don't think they had a lot of options. If you were an interesting hitter in the upper reaches of their farm system, you got a chance in the majors in 2022. There were simply too many plate appearances to fill, and not enough hitters to fill them. It's an unfortunate consequence of their win-now mentality from their years of contention; they consistently traded prospects for major league help, which left their farm system thin when it was finally time to retool. I think the front office would do it again in a heartbeat, given that it won them a World Series, but the 2021 and '22 teams paid the price with thin rosters and not much help on the way.
The Nationals have moved on from Franco, Escobar, Strange-Gordon, and Adrianza. They filled some of those plate appearances with prospects they acquired during the season, but Candelario represents a far superior plan: see if they can add a productive hitter in the prime of his career for cheap. To that end, the differences between his previous form and his down 2022 should give us an indication of what went wrong, and what could go right if he changes it. There's good news for that analysis: all kinds of things went wrong.
First things first, Candelario started walking less and didn't make up for it with a reduction in strikeouts. There was a clear culprit: he just started swinging more. He swung more at borderline pitches. He swung more on the first pitch. He swung more at pitches that never sniffed the zone. No matter how you look at it, he swung early and often:
Jeimer Candelario, Plate Discipline
| Year | O-Swing% | Z-Swing% | 0-0 Swing% | Shadow Swing% | Chase Swing% |
| --- | --- | --- | --- | --- | --- |
| 2020 | 25.9% | 67.7% | 28.6% | 49.9% | 20.5% |
| 2021 | 29.0% | 68.5% | 31.6% | 53.8% | 23.4% |
| 2022 | 33.4% | 74.1% | 36.8% | 57.8% | 29.0% |
All those extra swings at bad pitches had a clear effect, as meaningfully fewer of the balls Candelario put into play were good ones to hit. In 2020 and '21 combined, 49.4% of his batted balls came on pitches thrown over the heart of the plate. In 2022, that number declined to 45.1%. That might not sound like a lot, but in a full season of baseball, that's 20 or so batted balls that are pitchers' pitches instead of center cut.
That adds up. Even in a down year, Candelario hit .319 with a .660 slugging percentage when he hit a ball over the center of the plate. Over the last three years, he's hitting .379 with a .698 slugging percentage there. Swapping those out for lower-value contact is a good way to end up with poor numbers on contact, in addition to the shortfall in walks I've already mentioned. Swinging too much at borderline pitches also meant he saw more pitchers' counts and borderline pitches, which further exacerbated the problem.
But choosing worse pitches to swing at can't explain all of Candelario's decline in production. His power on contact was down even accounting for swinging at worse pitches. He still boasted solid maximum exit velocity, so it's not as though his raw power evaporated, but he made solid contact less frequently.
I find it useful to focus on pitches over the heart of the plate so that we can compare apples to apples. There, the picture is somewhat muddled. When he was able to get the ball in the air, he did a good job hitting it hard, and his barrel rate was mostly unchanged. His overall hard hit rate declined markedly, however:
Jeimer Candelario, Heart-of-Zone Production
| Year | Hard Hit% | Air Hard Hit% | Barrel% | xwOBA |
| --- | --- | --- | --- | --- |
| 2020 | 53.5% | 68.2% | 12.7% | .481 |
| 2021 | 42.0% | 46.2% | 14.1% | .472 |
| 2022 | 39.7% | 48.4% | 13.7% | .412 |
The result of all of this? Most of Candelario's decline in offensive production comes down to two things. First, he swung so much more frequently that he made too much contact in tough locations. Second, he did shockingly poorly when he put the ball on the ground. Two-hundred-and-three players hit 50 or more grounders on pitches over the heart of the plate. Candelario ranked 199th in his production on those grounders. Combine that with the fact that more of his contact came on tough pitches, and his overall production slid massively.
This is a lot of statistical digging to make a pretty simple point: Candelario just flat wasn't very good last year. He declined in a lot of small phases of the game, and they added up to a disappointing result, albeit with plenty of flashes that showed he's still a great player underneath it all. It wouldn't shock me if he rebounded to his previous form, and it equally wouldn't surprise me if this year was closer to his true long-term level than the past two.
Washington doesn't know that he'll return to his previous form, but they don't have to know. Players get better or worse all the time, or have isolated down years. Steamer pegs Candelario as a roughly average offensive player this upcoming year, but there's a huge amount of variance around that projection. He could be great, or his 2022 decline could just be who he is now, an overaggressive swinger who couldn't quite keep things going.
That volatility is amazing for Washington. If he's a replacement-level player now, oh well. He's only on a one-year deal, and it's not like replacing him with Carter Kieboom would change the trajectory of the franchise. The downside is minimal, in other words. If, on the other hand, he's back to his 2021 self, the Nationals just hit the jackpot. Sure, he's only on a one-year deal, but they could either offer him an extension or trade him at the deadline, both of which would help their next contending team.
This signing won't swing the NL East. It isn't a transformational deal the way that the Soto trade was – or even the Trea Turner/Max Scherzer deal the previous year. But good franchises make these signings to take advantage of volatility. I like the Stone Garrett deal for a similar reason; when you have the space to try out interesting players with upside, you should do it.
For Candelario, the Nationals are convenient mostly as a place where he'll get playing time. After his poor 2022 showing, teams in tenuous playoff spots would have been leery of offering him a full year of playing time. If he started off slowly, they'd feel pressure to move on; getting replacement level value out of a starter is unacceptable when you might need every last win. Those incremental wins don't matter as much in Washington; if Candelario starts off slow, they might as well keep playing him and see what happens.
In that sense, I think this deal makes a ton of sense for everyone. In fact, I'm surprised the Tigers didn't just hang onto him. They'd barely have paid him more than the Nationals, and unless they have their eyes on a third baseman in free agency, their alternatives at the position are worse. If you think they're a contending team, he'd be an upgrade. If you think they're still rebuilding, he'd be an upside bet. The Nats did a great job realizing that, and they'll reap any potential rewards next year as a result.