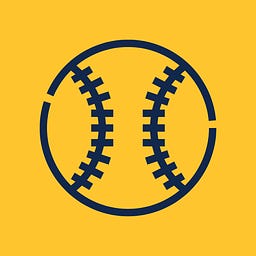 Paul Goldschmidt won the National League's Most Valuable Player Award last season, and deservedly so.
The St. Louis first baseman led the league with a .578 slugging average — 45 points better than anybody else — and he finished among the top three hitters in batting average (.317), runs scored (106), hits (178), and runs batted in (115). That's truly an MVP stat line.
And there's something else. Goldschmidt posted the best overall base value (OBV) in the National League in 2022, clearly demonstrating his worthiness. He piled up 159 more bases than a typical batter would have reached under the same circumstances. No other NL player had an OBV higher than Freddie Freeman's 139, and nobody in the Central Division exceeded 90.
Batters and pitchers are compared on the same OBV scale. A positive number indicates either that a batter accumulated more bases than his typical counterpart, or that a pitcher allowed fewer bases than his average competitor. (Click here to learn more.)
My assumption, as I've explained in earlier installments of this preseason prediction package, is that a high OBV in 2022 is likely to spill over into 2023. Goldschmidt consequently enters the coming season with greater momentum than any other player in the National League Central.
Look below for my rundown of who's hot in the division — and who's not. You can also find detailed OBV breakdowns for all 30 big-league clubs in the newly published Baseball's Best (and Worst) 2023 Yearbook.
A new installment will arrive in your email each Tuesday and Friday morning
The Cardinals were blessed with a wealth of talent in 2022, which is likely to serve them well in 2023.
Four of the division's five best OBVs were recorded by St. Louis players. And all four of them — Goldschmidt, third baseman Nolan Arenado, and pitchers Miles Mikolas and Ryan Helsley — will be back with the Cards this year.
St. Louis lost its fifth member of the divisional top 10, renowned slugger Albert Pujols, who called it a career after 22 seasons and 703 home runs. But he'll be replaced in the Cardinals' lineup by an offseason acquisition, catcher Willson Contreras, who ranked eighth in OBV last year while playing for the Chicago Cubs.
Two other members of the NL Central's top 10 are no longer in the division. The Cincinnati Reds dealt third baseman Brandon Drury to San Diego last August (his OBV of 45 on the following list was accumulated in the four months prior to the trade), and he subsequently jumped to the Los Angeles Angels as a free agent. And the Milwaukee Brewers traded second baseman Kolten Wong to Seattle.
These were the division's leaders last year:
1. Paul Goldschmidt, Cardinals, 159 OBV

2. Nolan Arenado, Cardinals, 90

3. Corbin Burnes, Brewers, 81

4. Miles Mikolas, Cardinals, 65

5. Ryan Helsley, Cardinals, 55

6. Bryan Reynolds, Pirates, 53

7. Willson Contreras, Cubs, 49

8. Brandon Drury, Reds, 45

8. Kolten Wong, Brewers, 45

10. Albert Pujols, Cardinals, 44
A complete rundown of 2022 stats — and a look ahead at the season to come
Last year was a rough one for Mike Minor, a very rough one.
The starting pitcher for the Cincinnati Reds went 4-12 with a 6.06 ERA, while posting the worst OBV for any player in the National League Central. Minor surrendered 88 more bases than the typical pitcher would have yielded.
The Reds allowed Minor to drift into free agency over the winter. No other team, as of this writing, has picked him up. He has hinted at retirement, though nothing is definite.
The runner-up on the division's list of worst OBVs was much more decisive. St. Louis catcher Yadier Molina retired after a distinguished 19-year career that is likely to take him to the Hall of Fame. His final season was also his worst, marked by an overall base value of minus-64.
Three other members of the divisional bottom 10 will be with different clubs in 2023. Second baseman Josh VanMeter, formerly with the Pirates, signed a minor-league contract with the Brewers. Pittsburgh teammate Bryse Wilson, a pitcher, was sold to Milwaukee by the Pirates. And first baseman Frank Schwindel headed to Japan after being released by the Cubs.
These were the NL Central's worst overall base values:
1. Mike Minor, Reds, -88 OBV

2. Yadier Molina, Cardinals, -64

3. Vladimir Gutierrez, Reds, -54

4. Jose Barrero, Reds, -49

5. Josh VanMeter, Pirates, -47

6. Jason Alexander, Brewers, -45

6. Bryse Wilson, Pirates, -45

8. Frank Schwindel, Cubs, -44

9. Justin Dunn, Reds, -40

10. Nick Senzel, Reds, -39
Read about the Hall of Fame's checkered history (and uncertain future)