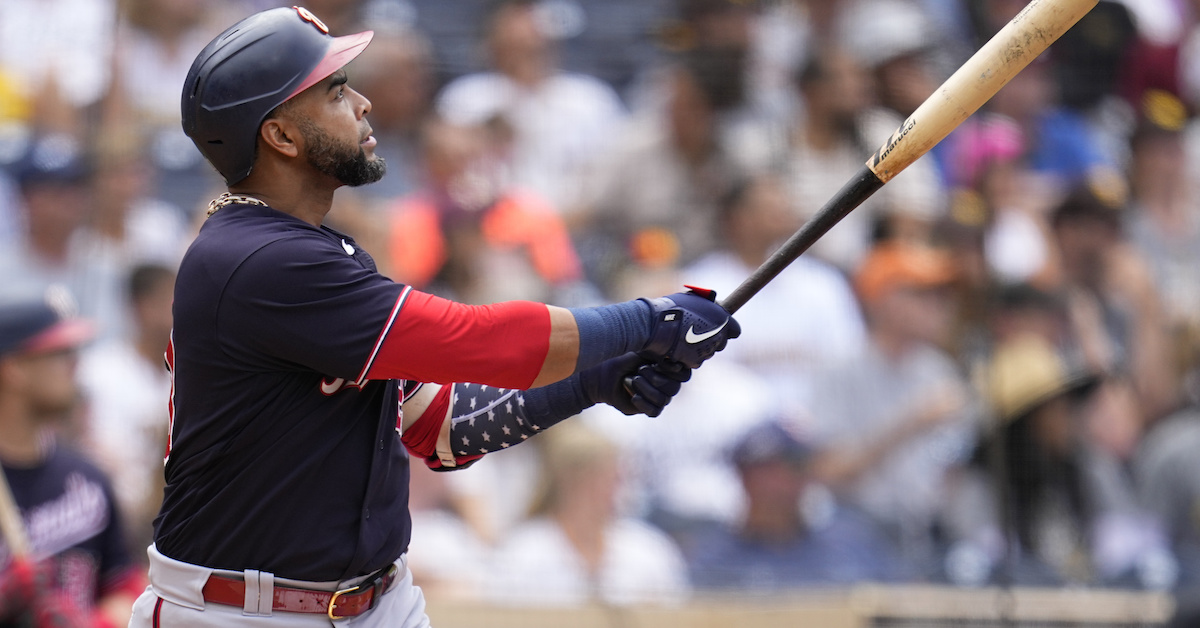 The youths are everywhere you turn — loitering at the mall, hanging around in parking lots, playing catcher for the Mets. I'm serious: On September 30, Francisco Álvarez became the first person born after 9/11 to appear in an MLB game. The iPod is older than Álvarez. And it gets worse; there's a pretty good chance that Andrew Painter, who was born in April 2003, will pitch significant innings for the Phillies next year.
This trend of increasingly younger people being allowed to play professional baseball is troubling to say the least. But it is only a trend, and not a universal dictate. There are a select few graybeards left in the game trying to hold back the tide. If a GM wants to hand a few million dollars to a player who's too old to spend it all on vape pens and ring lights, there is an option on the free-agent market. A man who's not only old enough to buy cigarettes, but who was also old enough to buy cigarettes back when they cost $3 a pack. A man so old the Grim Reaper followed him around for a while until he told the Grim Reaper to get off his lawn. An active player who, years after the retirement of Eric Young, Jr., played in the majors alongside Eric Young, Sr.
That's right: Nelson Cruz. A man who straddles the line between Gen-X and Millennial like the Colossus of Rhodes. At 42 years old, he is the oldest position player on the market. And despite nods at retirement — next spring, he'll be the GM of the Dominican Republic national team at the World Baseball Classic rather than its DH — Cruz wants to play in the big leagues in 2023.
The Nationals signed Cruz last winter to fill what ought to be called the Jim Thome role: A de facto player-coach who can still draw a walk and hit hanging breaking balls 400 feet, but who hasn't owned a glove in years and needs a calendar to mark his 60-yard dash time. Cruz actually ended up playing quite a bit; thanks to various trades and roster upheaval, he finished third on the team with 507 plate appearances and led the Nats in RBI, for what that's worth. Unfortunately, he was not immune from the abject rottenness that infected Washington's entire team last year; he had his worst offensive season since 2007, hitting just .234/.313/.337.
If all a potential suitor wants from Cruz is good clubhouse vibes and a few pinch-hitting appearances per week, that seems a reasonable enough expectation. But let's not forget, this is no mere mascot. Cruz hit 32 home runs and made the All-Star team in 2021. He finished in the top 10 in MVP voting in both 2019 and 2020. He may have made his MLB debut so far in the past that the Fast & Furious movies were still about street racing, but he was an impact hitter more recently than Michael Conforto or Cody Bellinger.
Despite his wretched overall offensive performance, there were reasons to be optimistic about Cruz based on his 2022 campaign. He stayed healthy (mostly; I'll get to that in a minute), and his strikeout, walk, and contact rates were basically in line with his career averages. During his best years in Minnesota, he was hitting roughly .300/.400/.600, which will usually get a hitter in the sharp end of the MVP conversation. Those days are over, but there's a long fall from there to unplayable. If Cruz could replicate the .265/.334/.497 line he posted in 2021, that'd make him one of the better DHs in the league. You could even live with a .234 batting average and .313 OBP from a DH if said DH hits for enough power.
And therein lies the problem. During Cruz's second peak, 2019 and '20, his ISO was around .300. From his first year as a full-time big league starter, in 2009, he posted an ISO of .200 or better in 13 consecutive seasons. His ISO in 2022 was a mere .103, which ranked 120th out of 130 qualified hitters. If that context isn't disappointing enough, no. 121 was Steven Kwan. Cruz could still wail on the ball if he got a hold of it — his maximum exit velocity was still in the 93rd percentile — but his xwOBA was down 43 points from 2021, 63 points from 2020, and 95 points from 2019. His HR/FB% fell from 20.9% in 2021 — coincidentally, also his career average — to 10.6% in 2022.
Now, Occam's Razor says that when a 42-year-old's bat suddenly falls off a cliff like that, it's because he's cooked. Time to hang up the spikes and go open a chain of car washes. In fact, that's such an obvious conclusion to draw that Occam's Razor is more like Occam's Machete in this case. But Cruz offers a compelling alternative explanation: His season ended on September 13 because of irritation in his left eye. After the season ended, he told Jessica Camerato of MLB.com that he'd been experiencing discomfort in that eye for a year and a half, and that he'd been altering his swing in order to compensate for only being able to see out of his right eye. "That would be beautiful to start seeing the baseball again," Cruz said to Camerato. "Vision is everything for hitters."
Regardless of whether his bat bounces back, it seems Cruz has developed a gift for understatement, because yes, only being able to see out of one eye would pose obvious challenges for someone who hits a baseball for a living. Eventually, he relented and had surgery to remove the offending portion of skin. He should be back to normal in plenty of time for spring training.
The question is this: Is Cruz a 42-year-old with a slowing bat, or is he a recent MVP candidate who just got treatment for a physical impairment that had been dogging him for more than a season? Steamer is splitting the difference, projecting the seven-time All-Star for 97 games plated and a slash line of .247/.320/.405 and a wRC+ of 105. That's not the kind of production you'd want from a $10 million a year DH, but there are teams with playoff aspirations and no better answers at that position.
Projecting a player like Cruz, though, is difficult because there aren't many players his age who get as much playing time as he does. A not-particularly-restrictive Stathead query brought back Cap Anson within the first couple dozen comparable players. So I narrowed my search to the following parameters: Players at age 41 or older, with at least 100 games played, at least half of which came at first base, DH, or an outfield corner. From there, I made further deletions on qualitative grounds; Ichiro Suzuki, Pete Rose, and Rickey Henderson got caught in the net, for instance, but none is a useful comp for Cruz. I also removed players who retired after that season or played before the advent of free agency. Finally, in order to keep this table from being dominated by Julio Franco, I restricted the list to one entry per player. And because what's of interest to us is not Cruz's 2022 but his potential performance in 2023, I took the season after each player appeared in the search for the first time.
Extremely Old Sluggers, Through the Years
| Player | Season | Age | Team | Changed Teams? | G | PA | BA | OBP | SLG | wRC+ |
| --- | --- | --- | --- | --- | --- | --- | --- | --- | --- | --- |
| Albert Pujols | 2022 | 42 | STL | Y | 109 | 351 | .270 | .345 | .550 | 150 |
| Raul Ibañez | 2014 | 42 | LAA, KCR | Y | 90 | 280 | .167 | .264 | .285 | 60 |
| Barry Bonds | 2007 | 42 | SFG | N | 126 | 477 | .276 | .480 | .565 | 157 |
| Julio Franco | 2003 | 44 | ATL | N | 103 | 223 | .294 | .372 | .452 | 112 |
| Andres Galarraga | 2003 | 42 | SFG | Y | 110 | 293 | .301 | .352 | .489 | 121 |
| Dave Winfield | 1994 | 42 | MIN | N | 77 | 328 | .252 | .321 | .425 | 86 |
| Darrell Evans | 1989 | 42 | ATL | Y | 107 | 323 | .207 | .303 | .355 | 80 |
| Carl Yastrzemski | 1983 | 43 | BOS | N | 119 | 437 | .266 | .359 | .408 | 105 |
| Willie McCovey | 1980 | 42 | SFG | N | 48 | 130 | .204 | .285 | .301 | 66 |
| Hank Aaron | 1976 | 42 | MIL | N | 85 | 308 | .229 | .315 | .369 | 102 |
The only thing that unifies these players is that they were all extremely good at their peak; of the 10 listed, four are already Hall of Famers. Pujols is a mortal lock to join them, Evans has a better case than he gets credit for, and Bonds… well, everyone knows where they stand on his candidacy. Turns out you don't get to be a 42-year-old corner bat in MLB if you weren't an outstanding hitter somewhere along the line.
As for what they actually produced in their Cruz-comparable season, it's a little bit of everything. We have a few really solid part-time seasons, two monster farewell tours from Bonds and Pujols, and a couple examples of this being the year the player in question proved he was well and truly cooked. The four players who had disaster campaigns — Ibañez, Winfield, Evans, and McCovey — had all been at least league-average hitters the previous year, Ibañez by some margin. But when it goes, sometimes it goes quickly.
Turns out the lesson from historical comparisons for Cruz is this: Predicting his 2023 season is a fool's errand. But the fact that he's coming off eye surgery gives him something unusual for a player who's too old to play Tom Cruise's love interest: upside. That makes him worth a look to a team that thinks he can outrun time for one more year.