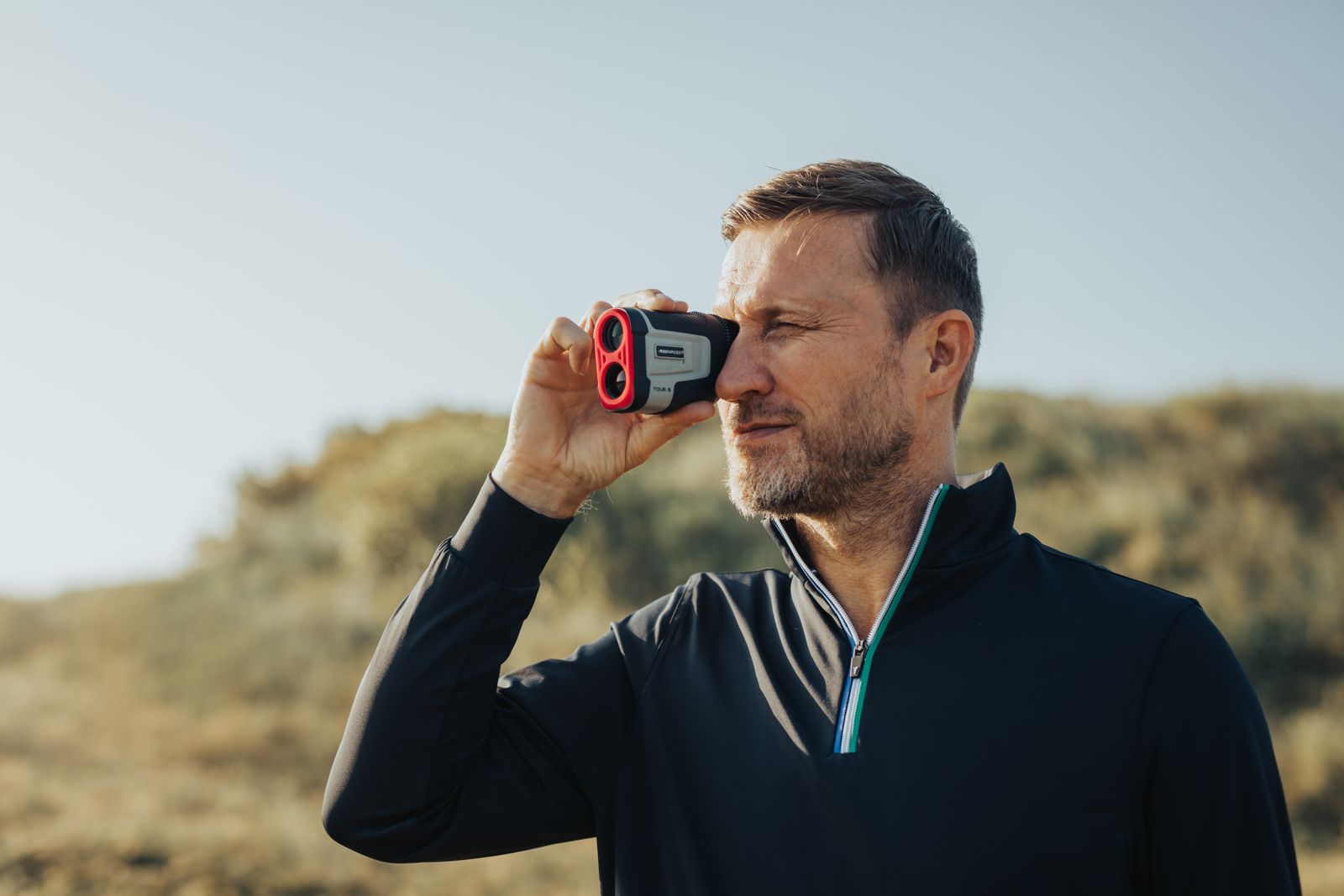 What is a rangefinder?
A Golf Rangefinder is an electronic bit of equipment, directed by a global positioning system (GPS), to tell you, to within a few feet, where you are in the world. In golf, specifically, it gives you distances to greens, hazards and so on, so that you can more accurately plot your way around the course. In the good old days when you had to rely on eyeballing to calculate distance, one of the greatest frustrations of the game was to hit a pure shot, only to see it fly the green, or fall short, simply because your estimation of the distance was wrong. Now, sadly, if either of those things happens, it's all your own fault.
Few bits of golf equipment have become ubiquitous as quickly as the rangefinder. A few years ago you hardly saw them on the course but today, if you play in a fourball, odds are that at least three of the golfers will have one (and in all probability, all four). They have become the must-have bit of equipment for serious and improving golfers alike but, like all advances and improvements to our lives, there is also a downside.
If you intend using one, prepare to park your ego in the clubhouse because they do not flatter your game or hitting prowess. You may, once, have hit your 7-iron 155-yards (downhill and with a following wind) and think ever after that this is the club you need to pull for the same distance. In consequence you'll spend a lot of time bemoaning the fact that your approach shots fall consistently short. To take full advantage of the assistance a rangefinder will give, you need to have a pretty accurate idea of how far you hit each club in your bag and for that you need to put in a little (but not too much) research.
Take two or three clubs – pitching wedge, 7-iron and 5-iron will probably suffice – to a practice ground and hit a dozen shots with each. After the first 12, pace out to the approximate middle of the spread in terms of distance, and that measure should become your norm for that club. So, if the longest shot you hit with your pitching wedge is 110-yards, and the shortest is 90-yards, assume that your distance for that club is 100-yards. As a rule of thumb, as you move up or down the clubs, add or subtract 10-yards, so your 9-iron becomes your 110-yard club, 8-iron 120-yards and so on. You may be disappointed to learn your actual distances but far better to have accurate information when planning a shot than think you're a superstar when you're not. I once asked a caddy at St Andrews what was the biggest fault he saw in amateur golfers and he said: 'They over-estimate how good they are.' Don't fall victim to the golfer's ego.
---
How does a rangefinder work?
Astonishing as it may seem, several billion pounds worth of satellite are circling the earth, enabling you to tell if your approach shot to the first green should be a 6 or a 7-iron. GPS includes 24 satellites that circle earth in precise orbits and each one makes a full orbit every 12 hours. The satellites are continually transmitting radio signals. A GPS receiver (the satnav in your car, mobile phone or rangefinder on the golf course) knows where it is by measuring the time it takes for a signal from at least four satellites, to arrive at its location. Radio waves travel at a constant speed, so the receiver can use the time measurements to calculate its distance from each satellite. Impressive, isn't it? GPS was developed by the American military and is owned by the American government – Russia has its own version.
Alternatively, there are laser rangefinders that fire a beam of light at a target (often the flagstick) and measure the amount of time it takes to bounce back, thus giving you the precise distance. These devices resemble one-eyed binoculars and should, technically, be called monoculars.
---
Why use a rangefinder?
If you have a choice, wouldn't you rather make a decision based on demonstrable facts rather than intuition, guesswork or the position of Uranus in relation to Mars. Golf is a demanding and challenging game with numerous variables – such as the weather, underfoot conditions, the clothes you're wearing along with your mood and physical condition on the day. You can remove one of those variables by knowing, with considerable accuracy, where you are on the course – no matter how wide you may spray the ball – and therefore what distance you now need to hit the ball.
---
Are rangefinders worth it?
Yes, for three reasons. First, it gives you precise information that helps you hone your game. Maybe you're 50-yards from the green and decide to hit a bump-and-run 8-iron shot but you're a bit strong and the ball runs off the back of the green. Next time you face a similar distance (and you will know because your rangefinder will tell you), you can make an adjustment to your swing and be much more likely to get your ball closer to the hole.
Second, if you know exactly how far you want to hit the ball, you pull the appropriate club and make a committed, aggressive swing. One of the easiest ways to screw up a golf shot is to have doubt in your mind.
Third, a rangefinder is a cool gadget, and we all like cool gadgets.
---
Can rangefinders be used in competitions?
Yes. The major amendments to the rules of golf introduced in 2019 allow for the use of distance measuring devices, but be careful. There are a few exceptions. For example, some rangefinders offer a slope reading, so if you're facing an uphill shot, for example, it may tell you that the actual distance is 120-yards, but the slope reading may say 'plays like' 130-yards. This is not allowed in competition. To be on the safe side, just use it for distance measurements if you're in competition.
---
What types of rangefinders are there?
Your choice, in sophistication and price, is almost unlimited. In terms of design there are three main types, handheld models, somewhat like a mobile phone which gives you information on a screen; binocular types, that give an exact yardage to the flagstick; and those that resemble a wristwatch (and which can also tell the time). As a general rule, because handheld models are larger, they can store more data. These can be clipped to your belt or trolley or stowed in your golf bag. The disadvantage, of course, is that you have to fish them out of the pocket to use them. The big plus of one-eyed binocular models is that they can be used on any golf course in the world, because you are measuring to the flagstick or some other fixed point. The watch and handheld models have to be pre-loaded with the golf course you're playing. This is not usually a problem because they can be loaded with 30-40,000 courses or more, which should be enough for even the most ardent golfer, but if you regularly take golf holidays abroad, for example, you might find yourself on a layout that isn't included.
---
How much should I pay?
It's up to you. You can pay less than £50 or several hundreds, depending on the amount of information you want or need. Some handheld and wrist watch models contain wonderful graphics of the hole you're playing, showing bunkers, penalty areas, trees, electricity pylons and quite possibly the clubhouse cat, while others will give basic information on yardages to the front, middle and back of greens.
---
Conclusion
One thing to be wary of is that some models depend on you paying an annual subscription – which isn't always made clear in the advertising and promotional material, and you have to load up a new course every time you play away from home. Once loaded it remains in the device for as long as you want. Other devices recognise which course you are on as soon as you arrive and switch it on, which is a big plus.
There are many pros and very few cons to buying a golf rangefinder. If you're serious about your game and eager to improve, it might be your next essential purchase.
---
About the Author
Martin Vousden – Golf Writer
Vousden bio
Martin Vousden joined Today's Golfer in 1988 as a staff writer and quickly rose to become editor; under his stewardship it became Britain's best-selling golf title. He then became launch editor of Golf Buyer and Swing magazines, before moving to Scotland to take over at ScottishGolf. After five years he became (and remains) a freelance journalist, having written for numerous titles, including Golf Monthly, Golf Punk and The Clubhouse, which is based in Malaysia. He lives in Angus, about 12 miles from the Carnoustie course that beats him up every time he plays it, so he joined Kirriemuir GC. His handicap of 19.3 rises inexorably with every passing year.
Martin's golf bag contains:
Ping G400 driver
King Cobra F/Speed 3-wood
Kane Golf 5-wood
Callaway Big Bertha 7-wood
Wilson D9 irons, 5-gap wedge
Yonex Z-Force sand wedge
John Letters Golden Goose lob wedge
Putter: GEL Ruby or Odyssey 2-ball blade (depending on which is behaving itself)
TaylorMade Distance Balls (yellow, just because he likes the colour)