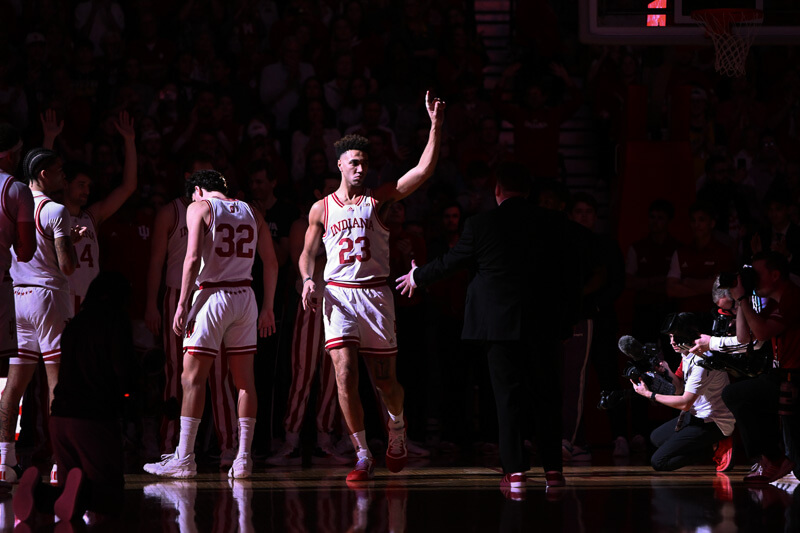 Indiana finished the regular season with a 75-73 overtime win against Michigan on Sunday at Assembly Hall. The victory improved the Hoosiers to 21-10 overall. Indiana finished Big Ten play with a 12-8 record.
Here are five takeaways from the victory:
It wasn't pretty, but Indiana found a way
Watching Indiana's performance on Sunday against Michigan was like riding a roller coaster.
Early on, it looked like the Hoosiers might run away with an easy victory over the Wolverines. Michigan was ice cold from the perimeter and Indiana built a 14-point lead. But that prosperity was short-lived.
The Wolverines came roaring back to close the first half and Indiana led by just two points at intermission. Michigan was hot to begin the second half and turned a 14-point first half deficit into a 12-point lead. The energy in Assembly Hall was tense as Indiana was flat for a second straight time at home.
But Indiana didn't quit.
The Hoosiers dug in defensively, started to get stops and slowly chipped away at the lead. Jalen Hood-Schifino hit a big shot to tie the game late in regulation and Indiana got two key defensive stops at the end of regulation to force overtime. The Hoosiers outscored Michigan 6-3 in the extra period. The victory lifted Indiana four games above .500 in league play and clinched a top-three seed in the Big Ten tournament.
In a season of adversity, Sunday's performance was the latest example of Indiana finding a way to grind out a win.
"I just think that's the story of how our team has been this year," Jackson-Davis said postgame. "We have had some ups and downs and it's been a roller coaster, but we fight."
Jackson-Davis finishes his career at Assembly Hall with another big-time game
Indiana's win on Sunday lifted the Hoosiers to an 8-2 record in conference home games this season. The performance of Trayce Jackson-Davis was a driving force behind the triumph.
The 6-foot-9 senior from Center Grove had a game-high 27 points, nine rebounds, six assists, two steals and two blocked shots in 44 minutes.
It wasn't the most efficient game for Jackson-Davis as he shot just 10-for-21 from the field. At times, he struggled against the length of Hunter Dickinson, who is four inches taller.
But the performance showed the growth of Jackson-Davis as a player in the past few seasons.
Michigan and Dickinson were a puzzle he could not solve early in his career. But now Jackson-Davis has held his own against Dickinson in three straight games, all wins for Indiana.
Race Thompson delivers on senior day
Race Thompson is the longest-tenured player on the Indiana roster, wrapping up his sixth season as a Hoosier.
After a scare with a knee injury against Iowa in early January that forced him to miss four games, it was fair to wonder if Thompson would be healthy again in an IU uniform.
On Sunday, Thompson looked like a player hitting his stride at the right time.
The Minnesota native scored 16 points, his highest total since an 18-point performance against Elon on Dec. 20. He also grabbed 10 rebounds, the most he's had since corraling 14 against Kennesaw State on Dec. 23. Thompson also looked like a savvy veteran on defense as he finished with four steals.
But most importantly, Thompson handled a heavy workload from a minutes perspective. He played 35, the latest sign that his knee continues to improve.
"He played really, really well down the stretch," Jackson-Davis said of Thompson. "And we needed every single basket that he got, every steal that he got to get that win. It was props to him, and we need that the rest of the way."
Tamar Bates, Malik Reneau deliver positive minutes off the bench
Indiana's bench play has been underwhelming for most of Big Ten play. On Sunday, the Hoosiers got key minutes from Tamar Bates and Malik Reneau.
Bates had six points, including two key 3-pointers in the second half. And Reneau added four points and three rebounds in 11 minutes.
Neither player committed a turnover.
The play of Bates was especially notable as Trey Galloway fouled out in just 25 minutes. Bates played 23 minutes and played strong defense against Kobe Bufkin down the stretch.
"They came in, said, "Who are you going with?" Well, I've got to go with the next senior guy," Woodson explained. "I can't rely on freshmen to bail us out. You know, Tamar has had some big games for us, especially here in this building.
"So I elected to go with him, and he bought it on. He played well down the stretch, made a big shot. So I couldn't be more proud of the kid. He stepped up and did what he needed to do to help us win."
Indiana earns double-bye for Big Ten tournament
A lot had to go right for Indiana to earn a double-bye for the Big Ten tournament in Chicago this week.
The Hoosiers got help to start the day as Penn State knocked off Maryland at the Bryce Jordan Center. Nebraska then beat Iowa at Carver Hawkeye Arena, opening the door for the Hoosiers to earn either the No. 2 or 3 seed.
Indiana's narrow win against Michigan clinched the double-bye and then the Hoosiers were slotted as the No. 3 after Northwestern won at Rutgers.
As the No. 3 seed, Indiana will face either Maryland, Nebraska or Minnesota to open tournament play.
"There's still a lot of basketball (to be played), there really is," Woodson said. "We have to take it one game at a time, one day at a time and see where it leaves us."
Filed to: Malik Reneau, Michigan Wolverines, Race Thompson, Tamar Bates, Trayce Jackson-Davis