An undefeated 2022 Davis Cup run, which included three singles and one doubles win, capped a successful fall for Montrealer Félix Auger-Aliassime.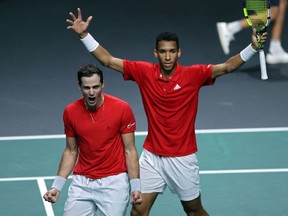 Article content
Canadian tennis ended the year on a high note with what Guillaume Marx believes will be the first of many victories in the Davis Cup, the ultimate team event in men's tennis.
Article content
"It's important to get a commitment from our top players and I think we'll get that and, with our young team, we should be among the favourites for several years to come," said Marx, who is head of performance for Tennis Canada.
Article content
Marx said the 2022 success will make it easier to get commitments from 22-year-old Montrealer Félix Auger-Aliassime and 23-year-old Denis Shapovalov. 
"As the defending champion, we won't have to play a qualifying round and we advance directly to the first phase of the finals in September," Marx explained. "Players have to make the schedule that works best for them terms of their ranking and where they are in the season."
Auger-Aliassime and Shapovalov skipped last year's qualifying tie against the Netherlands because it was played on clay in the middle of the hardcourt season. Canada was eliminated by the Dutch, but received a second chance as a wild card after defending champion Russia was barred in the wake of its invasion of Ukraine.
Article content
Auger-Aliassime joined Canada for the first phase of the final, beating world No. 1 Carlos Alcaraz to book a spot in the eight-team knockout round. Shapovalov was with Auger-Aliassime and doubles ace Vasek Pospisil for the final phase in Malaga, Spain, in November.
An undefeated Davis Cup run, which included three singles and one doubles win, capped a successful fall for Auger-Aliassime, who captured ATP Tour titles in Florence, Antwerp and Basel with a 13-match winning run in October before reaching the semifinals of the Paris Masters and competing in the ATP Finals. He climbed to a career-high No. 6 in the ATP rankings and was named Canadian male athlete of the year.
"I feel like momentum plays a huge role in your confidence," Auger-Aliassime said last week as he began his preparations for the Australian Open. "It's been great in the last few months. I try to re-create it, not just like I think it's some sort of stars aligned or some type of luck you're just trying to ride a wave on. I think there's reasons behind success. It's about understanding why you are succeeding constantly and trying to do it again."
Article content
The next box to check for Auger-Aliassime is a Grand Slam title. His best result is a semifinal appearance at the 2021 U.S. Open and he has reached the quarter-finals of Wimbledon and the Australian Open.
After an up and down season, Shapovalov finished at No. 18, while the 32-year-old Pospisil returned to the top 100 as he continued to resuscitate his singles career after back surgery in 2019 and a recurring elbow injury.
Gabriel Diallo, a 21-year-old Montrealer, will be playing his first pro season. He won the Granby Challenger and decided to skip his final year at the University of Kentucky after jumping from No. 972 to 227.
On the women's side, Sylvain Bruneau expects major comebacks from 20-year-old Leylah Annie Fernandez and 22-year-old Bianca Andreescu after they dealt with injuries last year, but finished on a strong note. Both players are currently ranked in the 40s, but Bruneau, who oversees elite women's programs, believes they will be back in the top 20.
Article content
Despite losing two months to a stress fracture, Laval native Fernandez ran her career earnings past US$3 million and she kicked off the new year by announcing the establishment of the Leylah Annie and Family Foundation to provide "access to character-building and life-changing opportunities" for young athletes.
Bruneau is also excited about the continuing comeback of 32-year-old Rebecca Marino, who starts the season at No. 66. Marino, who took five years off to deal with emotional issues, has climbed more than 200 spots over the past 18 months and reached the third round of the U.S. Open for her best Grand Slam result since 2010.
And former top-10 player Genie Bouchard from Westmount is attempting another comeback after shoulder surgery last season. She won her first qualifying match at the ASB Classic in Auckland last weekend, but withdrew from her second match with an unspecified injury.
Article content
Marx said Tennis Canada's development program is in full swing after dealing with COVID and the loss of coaching guru Louis Borfiga, who returned to France.
"It would have been nice to have Louis for another year or two, but he made sure he left the program in good hands," Marx said.
Canada has a potential star in Victoria Mboko, who is sixth in the ITF junior rankings. The top junior on the men's side, Jaden Weekes of LaSalle, is following Diallo's path and has enrolled at Kentucky, which has five other Canadiens on its roster.