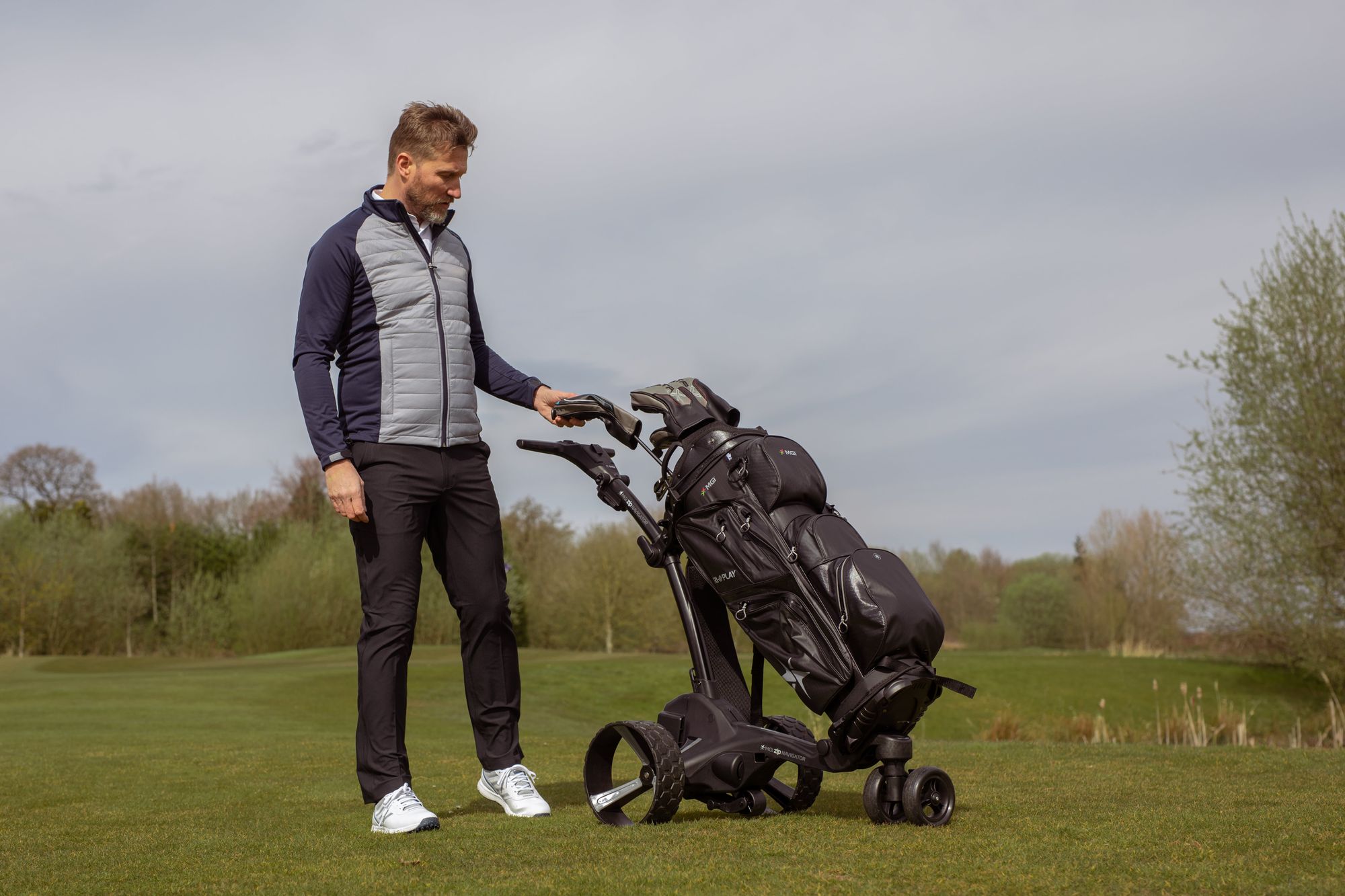 There is a perception that electric trolleys are for old codgers or the lame, or obese people who struggle to walk up a flight of stairs, never mind make their way around 120 acres of golf course. This may on occasion be true but as a general rule, it's nonsense. Yes, you are far more likely to see youngsters carrying their clubs but this has more to do with macho pride and the fact that older golfers are more experienced, both at golf and in life, and have recognised that carrying clubs is both unnecessary and potentially harmful.
Even if you're young, fit and healthy, carrying your golf clubs can seriously damage your back, especially if you carry over one shoulder. Dr Josh Nelson, a sports chiropractor, says: 'Carrying your clubs not only places a huge amount of compressive force on your spine, but also causes lactic acid build up in the surrounding muscles causing fatigue and, you guessed it, injuries.' He is not alone, as numerous studies demonstrate the deleterious effects of carrying a golf bag. If you must do it, use a double shoulder strap system so that the clubs are across your back and their weight evenly distributed. You could, of course, use a push or pull trolley but here again you might be inadvertently damaging yourself. Watch someone pulling a trolley and you will notice that they tend to lean to the side holding the trolley handle, another recipe for back problems. If you must have a non-motorised trolley, use a push, not pull model as these encourage you to stand straighter and with better balance.
---
Which electric trolley should I buy?
If you are not going to ride around in a golf buggy – and please don't because it's an American trend that should not be imported – the obvious and best alternative is to invest in an electric trolley. It takes the strain out of lugging a 30-pound golf bag over uneven terrain for several hours but does not rob you of one of the most important facets of playing the game – exercise. More surprisingly, perhaps, you will burn up almost as many calories using a trolley than carrying. Neil Wolkodoff, director of the Centre for Health and Sport Science at the Rose Medical Centre in Denver, completed a landmark study in 2010. He said: 'One of the surprise realisations was that just swinging a golf club about 100 times uses up a significant amount of energy.' Those that carried clubs used about 721 calories over nine holes while those pushing a trolley used almost exactly the same amount – 718 calories. Therefore, it would therefore seem that the greatest exercise benefit of playing golf is actually swinging the club.
For obvious reasons, a push or pull trolley can be considerably cheaper than their motorised counterparts. They are also lighter and usually quicker to assemble before a round and fold up after it. Weighing against this is the physical energy involved in getting them around the course. Electric trolleys are the common sense luxury option and let's face it, we could all do with a bit of luxury in our lives. You can spend anything between £300-2,500 but the most popular models range from £600-1,000.
Originally lead-acid batteries were fitted to most electric trolleys and, although they had a longer life – typically up to nine hours – they are heavy and cumbersome. Lithium-ion batteries tend to be more powerful and are lighter, smaller and more convenient, so they are the ones featured here.
---
Best Electric Golf Trolleys
MGI Zip Navigator Remote Control Lithium Electric Golf Trolley £999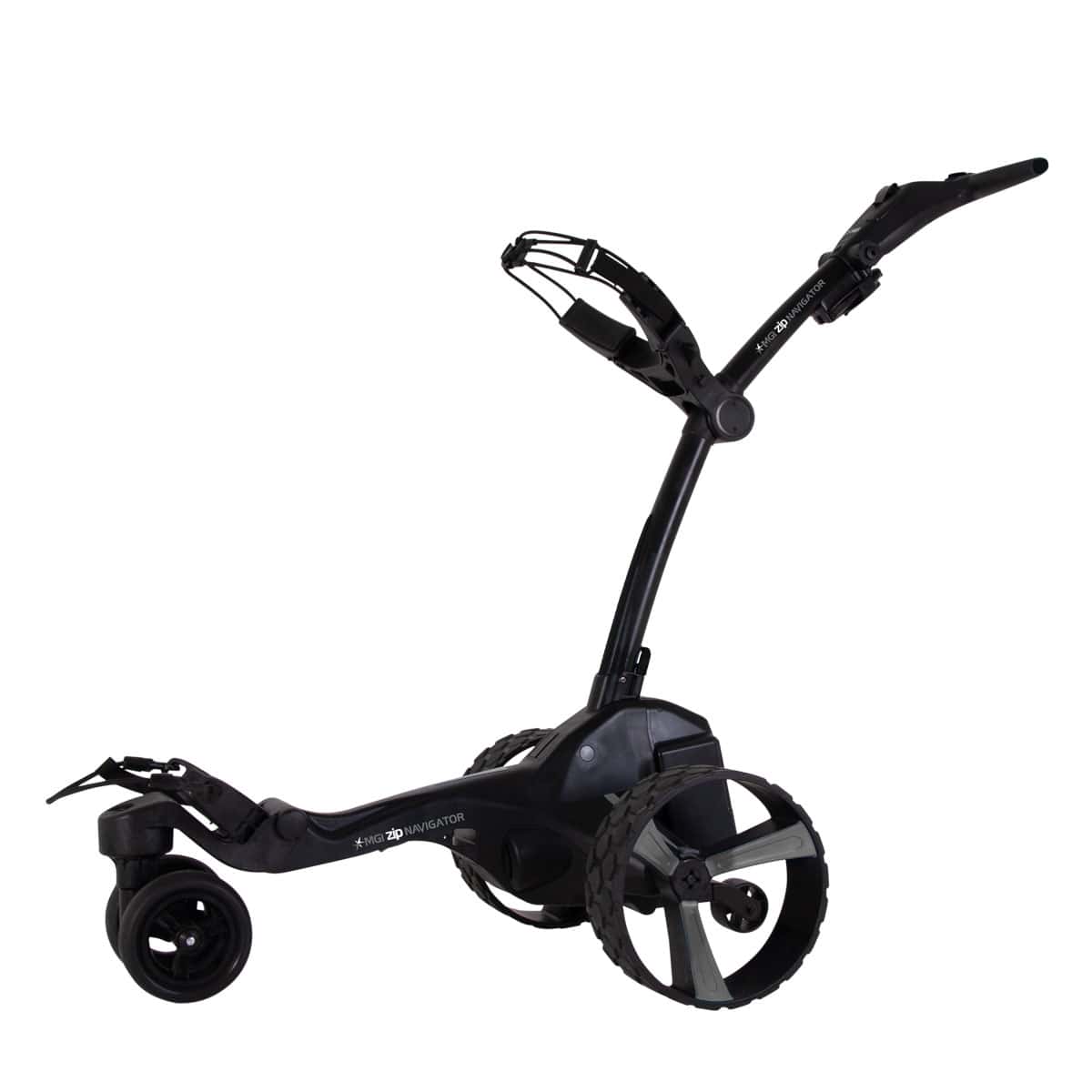 Reasons To Buy
Price – £££££
Fully remote controlled
Exceptional stability
Folds to compact size
This is one of the more expensive trolleys included here and is jam-packed with features. First and foremost is stability, thanks to a small fourth wheel set behind the main axle that prevents the trolley tipping over backwards when climbing a steep hill. The obverse is sorted too, because it has a feature that automatically slows it down when travelling steeply downhill. The remote-control unit has a lock feature that prevents buttons being accidentally pressed while it's in your pocket and the whole thing, while on the heavier side at 13 kgs, folds away to a compact, manageable size. The full directional remote control allows it to turn in any direction with precision and the hands-free remote allows for left, right, forward, reverse and speed control. It also has gyroscope straight tracker technology that automatically corrects when it senses the wheels are off-centre. It features a lightweight 24v 380W lithium battery good for 36 holes, includes a GPS holder and free travel bag along with a free umbrella holder and comes in black or titanium grey/black. The trolley has a three-year warranty while the battery has a conditional five-year warranty.
---
MGI Zip X5 Lithium Electric Golf Trolley £699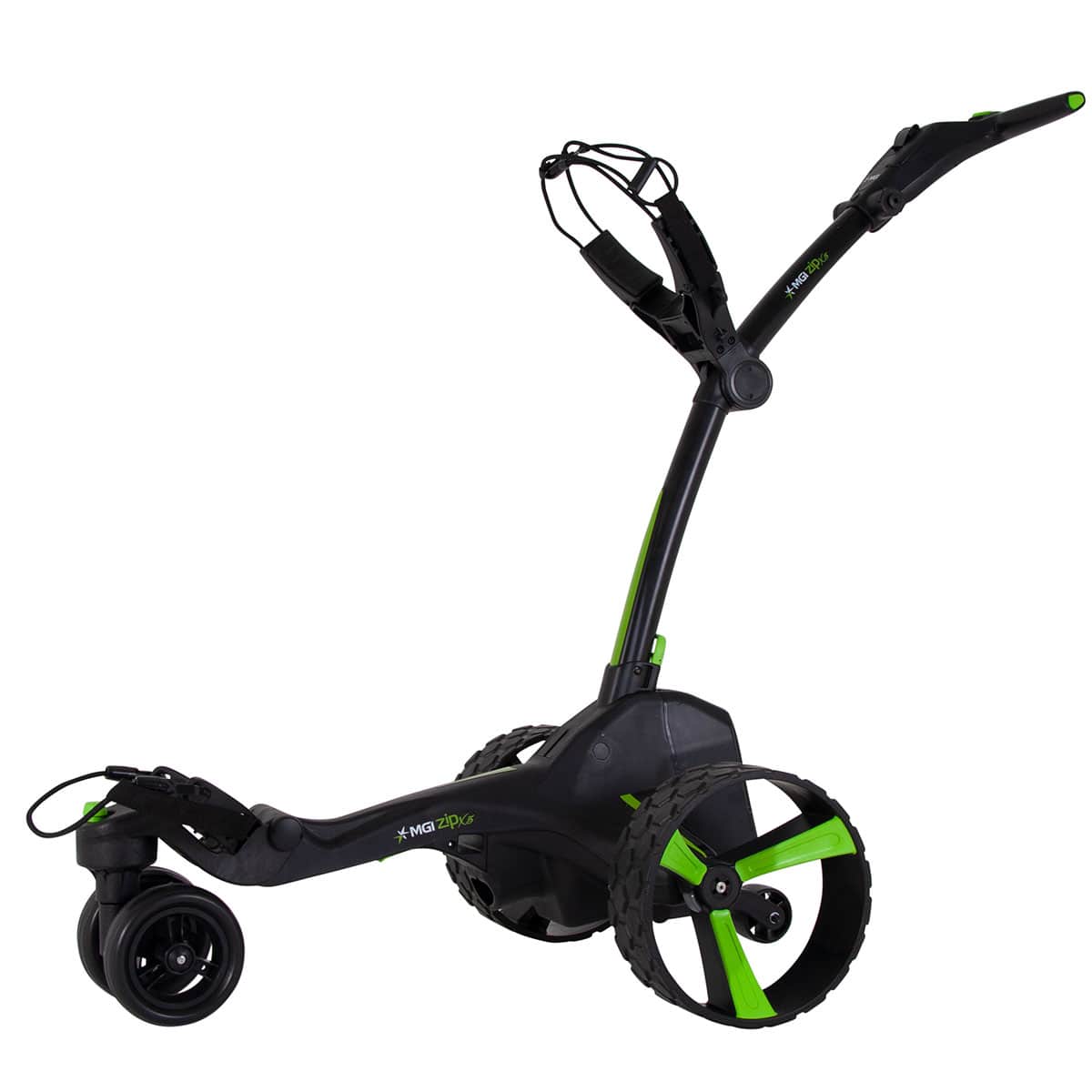 Reasons To Buy
Price – £££££
Stable
Compact
Attractive
This model also features the fourth wheel for greater stability and to avoid the embarrassment of watching your clubs tumble out of the bag as it falls backwards traversing a steep slope. In addition, it has the same zip fold technology to make packing the trolley into a compact size quicker and easier. The downhill speed control feature is enhanced by an electronic parking brake. A controlled distance function allows you to send the trolley to a pre-determined distance, hands-free, so that you can send it off to the next tee, for example, while you putt out, and it has odometers that mean you can track things such as your longest drive and distance walked. It is available in black or titanium grey/black, with funky green highlighting on the wheels. The 24v 250w lithium battery is good for 18 holes and the ergonomically designed T-Bar handle is comfortable to use and fitted with digital electronics and a battery-life indicator.
---
PowaKaddy CT6 36 Hole Lithium Electric Trolley 2022 £749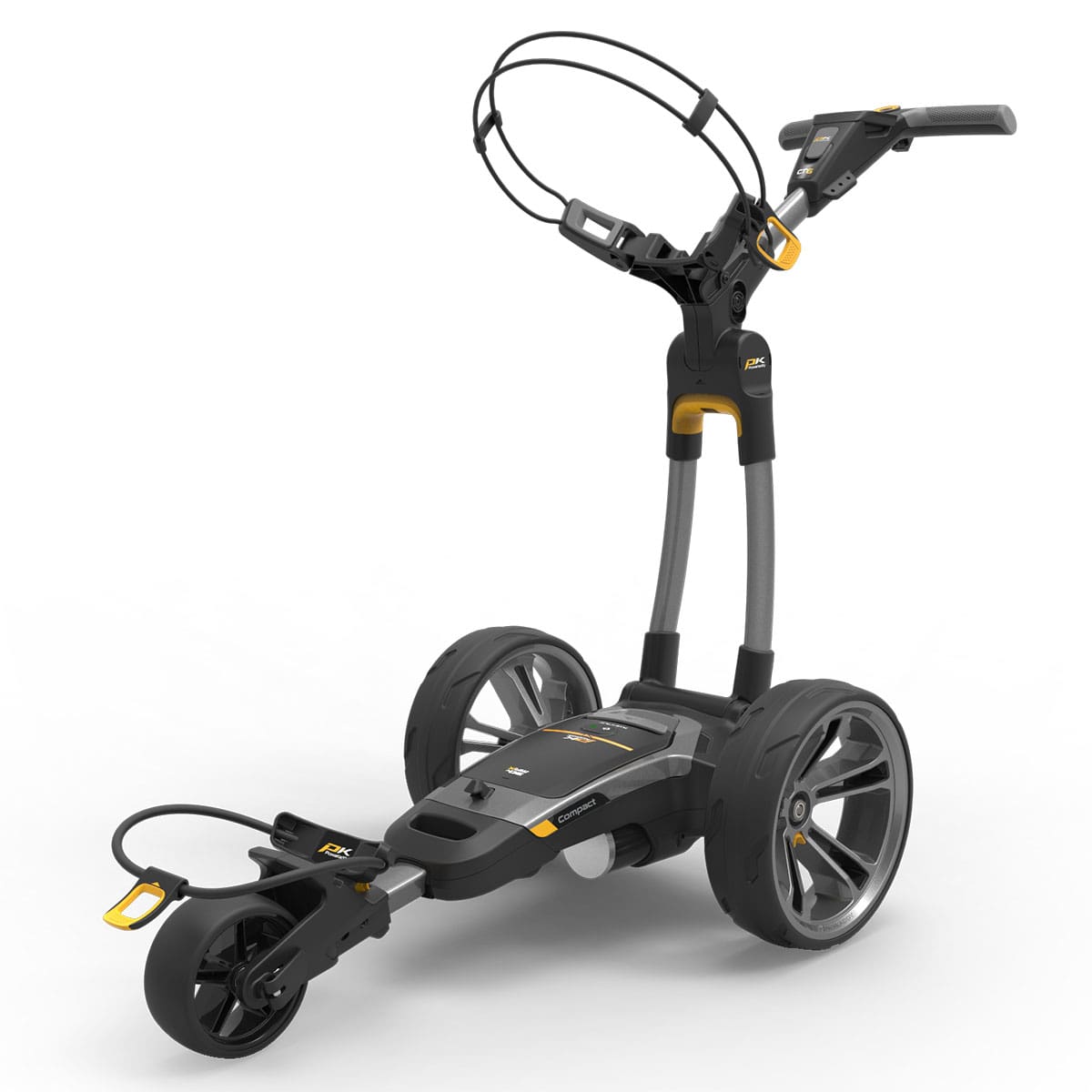 Reasons To Buy
Price – £££££
Packed with features
Supremely compact and light
Whisper quiet
Two of the biggest and most respected names in golf trolleys are PowaKaddy and Motocaddy, the reason being that both companies have a long history of producing well-made, reliable equipment that has made them market leaders. PowaKaddy was the first manufacturer to develop a commercial electric trolley, which it launched in 1984. This smart, stylish and sleek model comes in grey and black, with yellow highlights. For convenience it features the 2-fold system meaning that it can be packed away into a compact, lightweight shape in seconds, and is also fitted with an integrated carry handle, big advantages when your fingers are cold or wet and you just want to get indoors for a cup of coffee. Years of experience have gone into the design and construction of this trolley and it shows – right down to the bungee straps that secure your bag, which have integrated anti-pinch handles for greater security. The 2.8" full colour widescreen displays a digital power gauge along with a battery level indicator, clock, round timer, and a speed indicator that you can switch between yards and metres. You can also pre-set an automatic distance, letting you send it 15, 30, or 45-yards, leaving you hands-free. The soft-touch ambidextrous handle can be adjusted to your height, and there's even a USB charging port for GPS or mobile devices. The 30v 230W lithium battery comes with a full 5-year warranty and powers a whisper-quiet motor that will carry your bag over 36 holes.
---
PowaKaddy FX7 18 Hole Lithium Electric Golf Trolley £729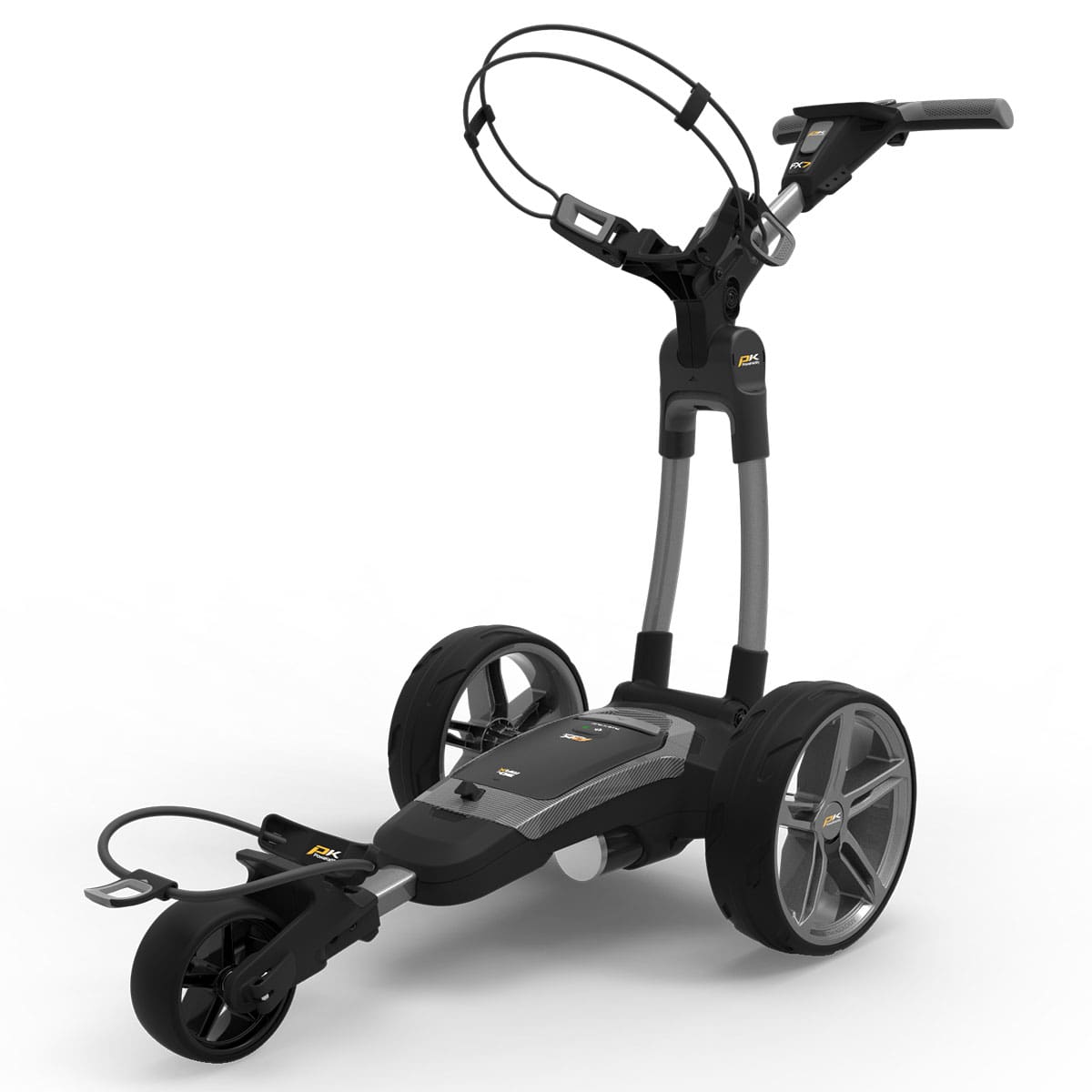 Reasons To Buy
Price – £££££
Good value.
Easy folding system
Lightweight
This is considered to be an entry-level trolley but that doesn't mean it skimps on the essentials. It features a one-click folding system that is as efficient as it is easy to use. The nine-speed power system is shown on a 2.3" colour display that also showcases a battery level indicator, clock, round timer and built-in calorie counter. It uses the same convenient automatic distance function as the CT6, so you can send your trolley between 15, 30 or 45-yards according to need. The 18-hole lithium battery, which has a five-year warranty, is one of the smallest, thinnest on the market and clicks neatly into the base of the trolley, which comes in a gunmetal/black colour combination. The chassis is low-profile to give optimum ground clearance and is easy to clean. The sports wheels can be removed in seconds – always handy in winter if you don't want the boot of your car covered in grass or mud. It also features a whisper-quiet 30v 230w motor, which has been awarded the Quiet Mark approval reward associated with the UK Noise Abatement Society foundation. This trolley does not come with the all-singing, all-dancing features of some more expensive models but is an extremely functional, lightweight and durable bit of kit.
---
Motocaddy M3 Extended Range Lithium Electric Trolley (with accessories) £749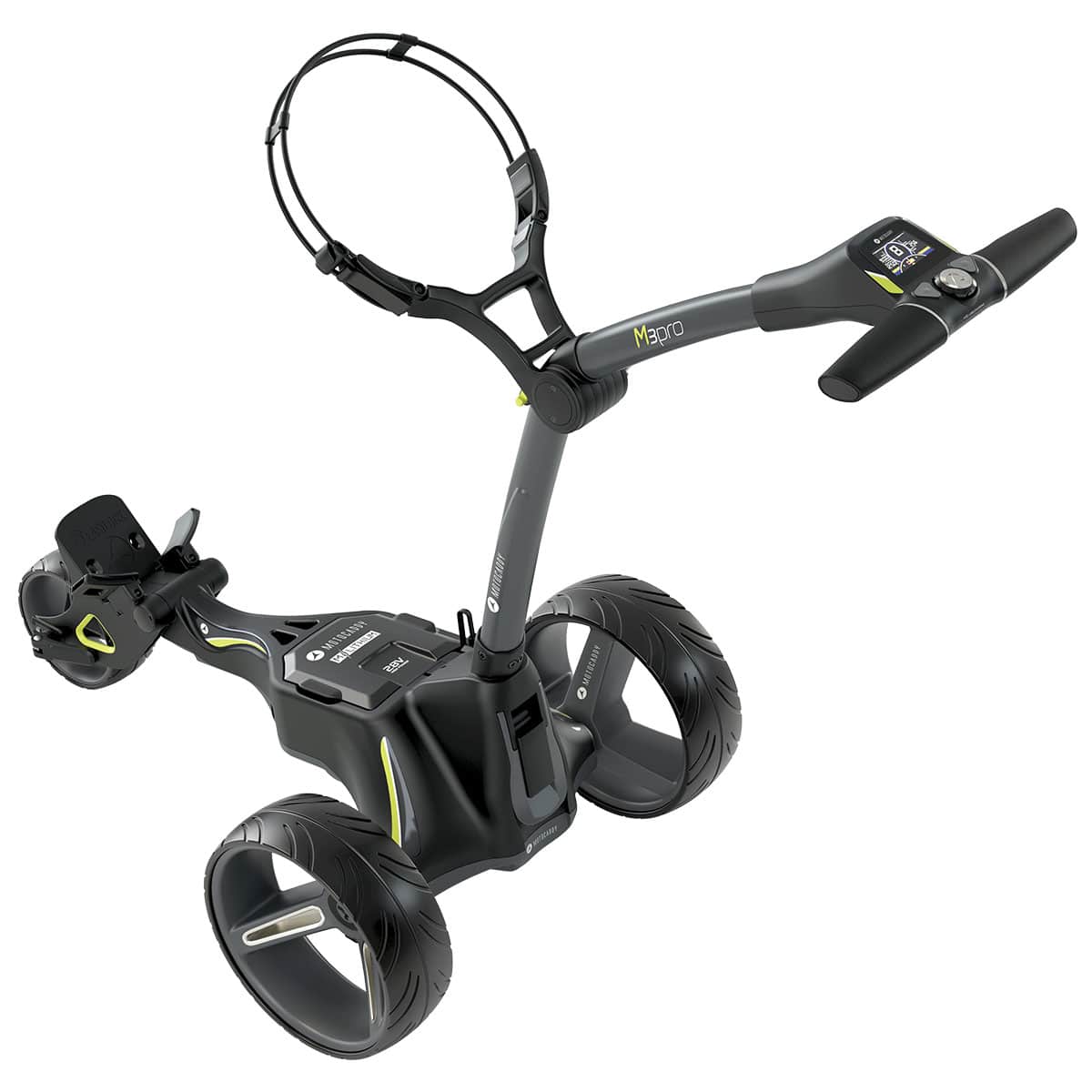 Reasons To Buy
Price – £££££
Lightweight
Free Accessories Pack
Compact Frame
We all like a bargain and this aluminium-framed lightweight trolley comes with a free accessory pack worth £84.99 that includes a device cradle (for GPS or mobile phone), umbrella holder, scorecard holder, and drink holder – what more could you possibly need in a round of golf? It looks good too, in gunmetal grey/black with yellow highlights and the manufacturer says it features the world's most compact frame when folded, so you won't need to drive a monster SUV to fit it in the back. The full-colour, high-resolution LCD screen displays a battery meter, speed indicator, nine different speed settings, a clock and round timer. The adjustable distance regulator uses a simple thumb-operated control wheel. Also included is a USB charging port. All new Motocaddy trolleys and bags feature two holes on the bag support that are aligned with two pins on the base of Motocaddy's cart bags. This allows the bag to be locked onto the trolley and removes the need for a lower bag strap but the trolley can also be used with any golf bag. The 28v 230w motor is whisper quiet and the ergonomically designed soft-grip handle can be adjusted for height.
---
Motocaddy M-TECH GPS Extended Range Lithium Electric Golf Trolley £1,199.99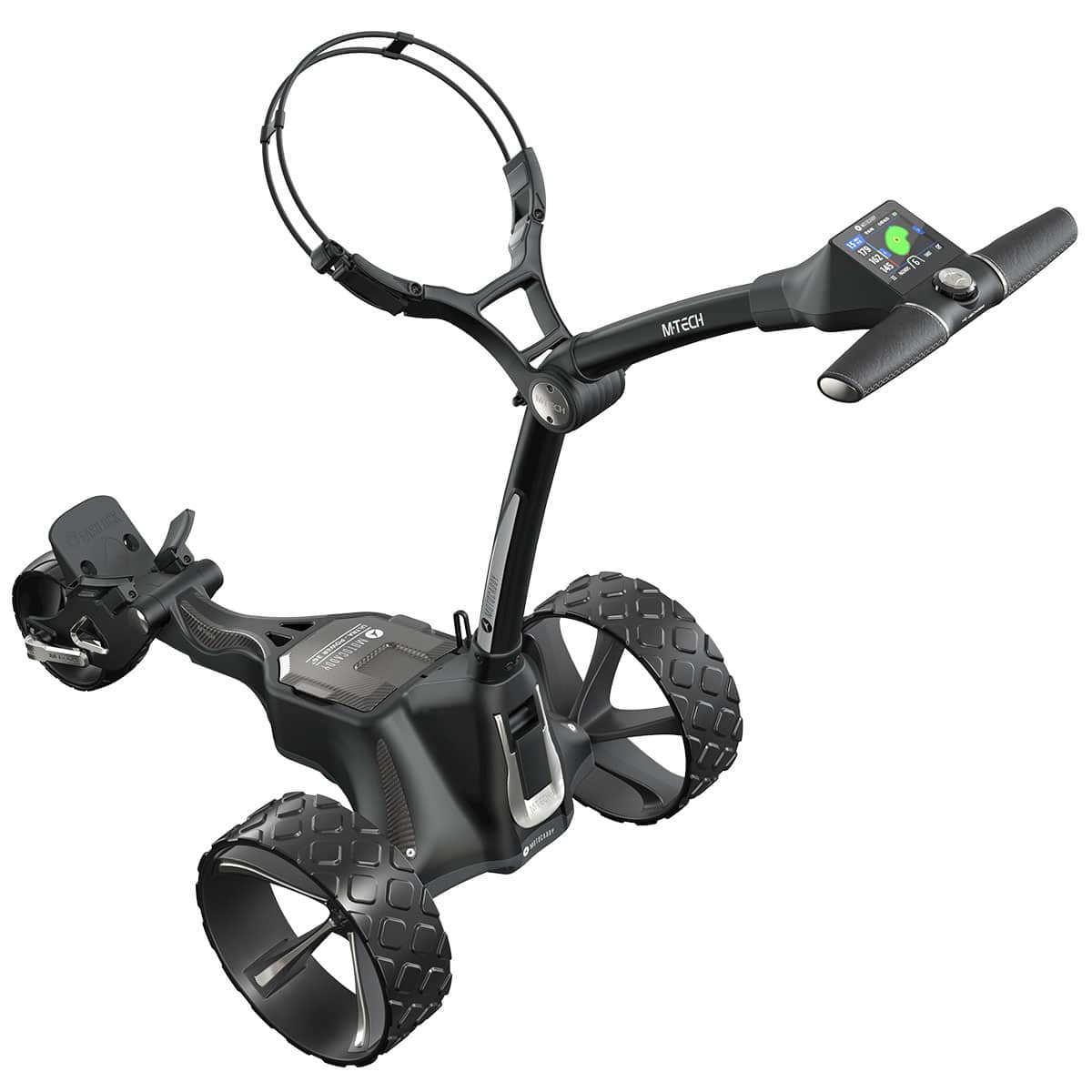 Reasons To Buy
Price – £££££
Full GPS System
All Terrain Wheels
Touch Screen Display.
You want features? Come here because this little beauty has got features to burn. Although the price may seem prohibitive, bear in mind that this trolley comes with a fully integrated GPS system, for which you could pay several hundred pounds if buying separately. It includes 40,000 pre-loaded courses, each with measurements to the front, middle, and back of the green, as well as hazards, all displayed on a high-resolution 3.5" LCD touch screen. The super-light lithium battery has a range of 36-holes plus and the trolley has automatic downhill control braking and an electronic parking brake. The all-terrain wheels ensure stability no matter how uneven the ground or steep the slope. The handle is adjustable for height, and the nine speed settings means the trolley always moves at the perfect pace – whether you're a sprinter or slowcoach. There's more. The full-colour touch screen display includes a clock, round timer, score tracking facilities, the par and stroke index of each hole, shot distance measurements, auto-hole advancement, and a battery charge indicator. As with the M3 trolley, the M-Tech features the Easilock technology that secures the Motocaddy bag. This trolley comes at a price but is a great bit of kit.
---
Motocaddy S1 DHC Extended Range Lithium Electric Golf Trolley £699.99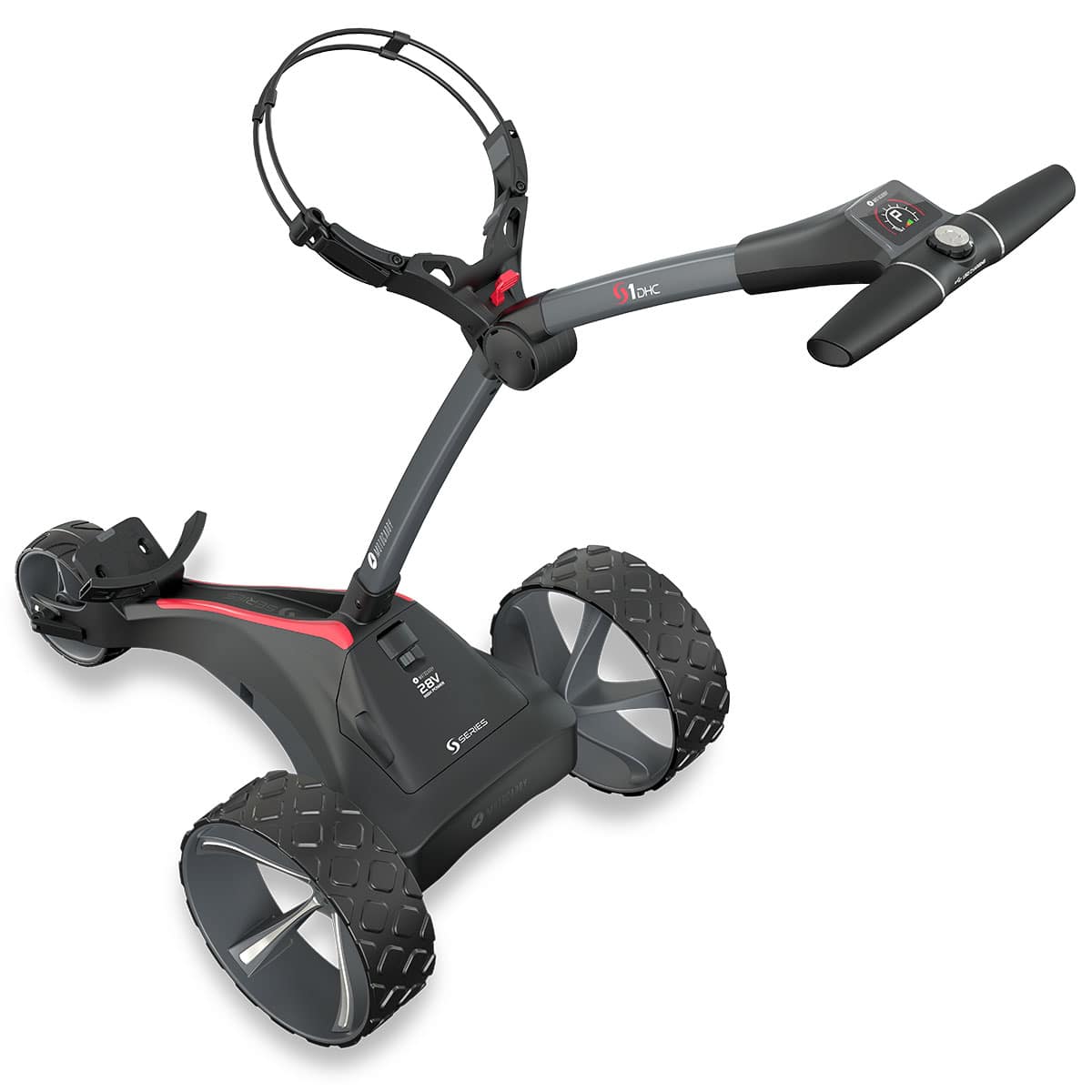 Reasons To Buy
Price – £££££
Affordable Price
Easy to use compact trolley
UK's Best Seller
This graphite grey/black with red highlights model returns us to a more affordable price point but as a comparatively basic model, it still ticks a lot of boxes. The company describes it as the easiest-to-use compact trolley in the world and it's difficult to disagree. The DHC means downward hill control (why that isn't simply 'downhill control' is a bit of a mystery but hey, why use two words when three are available?) But despite that linguistic quibble, it's a great feature because it avoids that problem of a fully-laden bag and trolley pulling your arm out of its socket on a steep downward incline. Ease of use is a big factor here, as assembling it out of the box, folding, unfolding, loading your bag and stowing it in the car or garage are all straightforwardly intuitive and hassle-free. The styling is sleek but one note of caution is that on steep uphill climbs it can tip over backwards. There's a good reason why the basic S1 has been the UK's best-seller, as it's light but sturdy and the company has built a lot of its considerable reputation on reliability. The low-profile quick-release wheels on this DHC model are great for quick removal and storage, the battery tray has been streamlined and there's an easy-to-use quick-fold mechanism. The anti-clog front wheel is a nice touch but even better is the parking brake. Turn away to play a shot when the trolley is on a slope, when you turn back, it won't have run away from you because you can set it in park mode, no matter how steep the slope. If you regularly play on a hilly course, this would be a great option. Finally, there's a soft-touch ambidextrous handle, nine-speed settings via a thumb-operated wheel, a battery life indicator and charging port.
---
Flat Cat Hybrid Touch Electric Trolley £2,249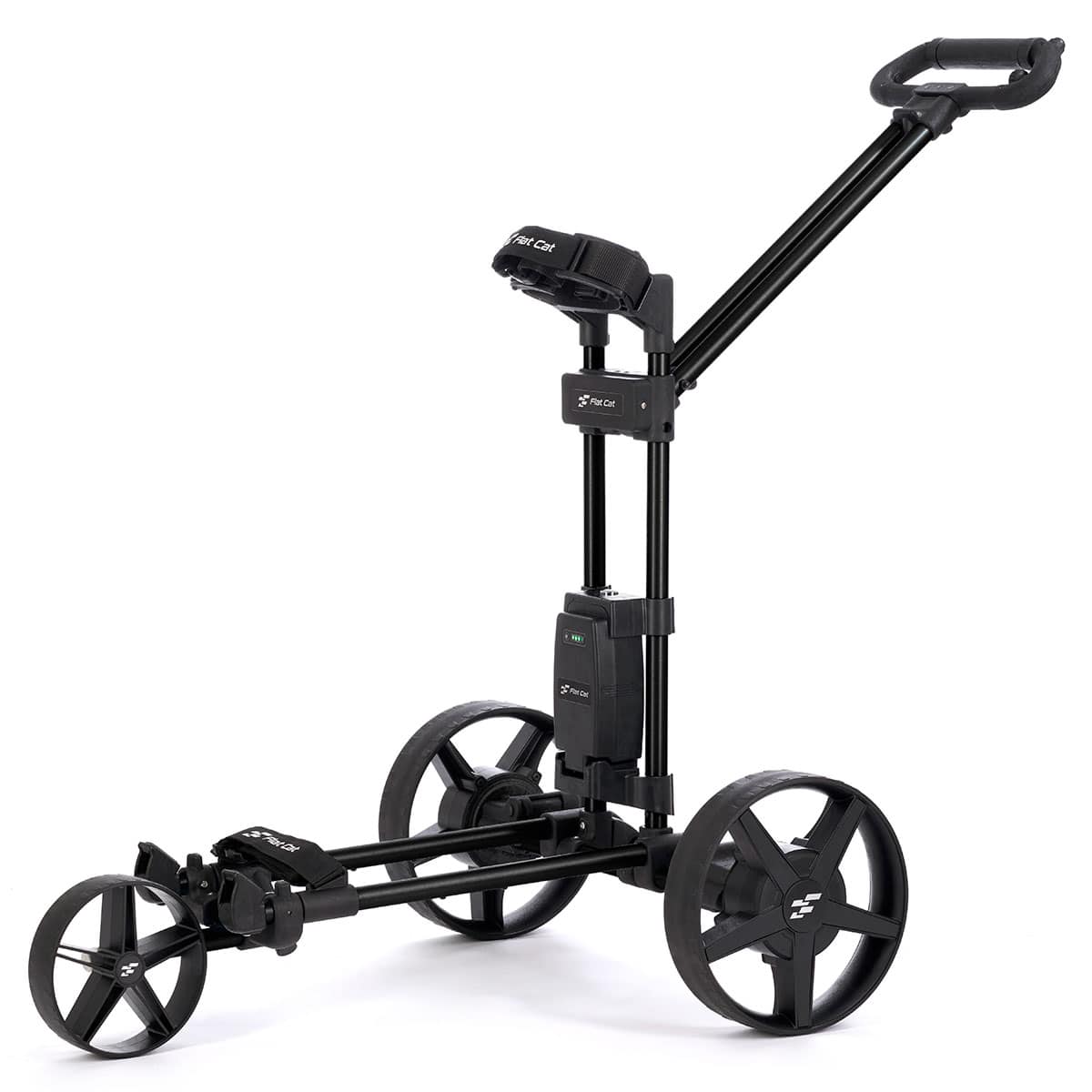 Reasons To Buy
Price – £££££
quickest and easiest to fold trolley
braking assistance
comes with a carry bag
This is the most expensive trolley featured here, so let's find out why. It is made in Germany, which has become a byword for exceptional engineering and is constructed from anodised aluminium, glass fibre reinforced plastic and metal ball bearings. All this technology is invisible and protected in the housing. This creates a stable trolley with the lowest weight possible and it might be considered the Rolls Royce of electric trolleys if it wasn't for the rather mundane looks, although beauty remains in the eye of the beholder, so you might think it looks great. But that is the only drawback because it has more features than your average multi-screen cinema. For practicality, it's the quickest and easiest to fold and packs into a streamlined, slender shape, making it a doddle to store – even the battery folds. Functionally it's superb, too, including as it does a speed regulator and on/off switch with memory, so it moves at the desired speed at the touch of a button. It can be set to travel 20, 30 or 200 metres remotely and when it arrives, the parking brake comes on automatically. The most impressive bit of engineering is the brushless motor that does not require a gearbox, so it is efficient, energy-saving and gives minimal vibration and running noise. It has braking assistance when travelling downhill, so will not run away from you and the handle just needs one touch to set the trolley moving while the automatic speed control adapts continuously to the desired speed so the trolley stops and parks when released. The handle is height adjustable, the Flat Cat will accommodate virtually any stand or cart golf bag, the lithium battery will get you through 36 holes and it all comes with a carry bag to keep the tailgate of your car clean pristine. Go on, spoil yourself.
---
About the Author
Martin Vousden – Golf Writer
Vousden bio
Martin Vousden joined Today's Golfer in 1988 as a staff writer and quickly rose to become editor; under his stewardship it became Britain's best-selling golf title. He then became launch editor of Golf Buyer and Swing magazines, before moving to Scotland to take over at ScottishGolf. After five years he became (and remains) a freelance journalist, having written for numerous titles, including Golf Monthly, Golf Punk and The Clubhouse, which is based in Malaysia. He lives in Angus, about 12 miles from the Carnoustie course that beats him up every time he plays it, so he joined Kirriemuir GC. His handicap of 19.3 rises inexorably with every passing year.
Martin's golf bag contains:
Ping G400 driver
King Cobra F/Speed 3-wood
Kane Golf 5-wood
Callaway Big Bertha 7-wood
Wilson D9 irons, 5-gap wedge
Yonex Z-Force sand wedge
John Letters Golden Goose lob wedge
Putter: GEL Ruby or Odyssey 2-ball blade (depending on which is behaving itself)
TaylorMade Distance Balls (yellow, just because he likes the colour)