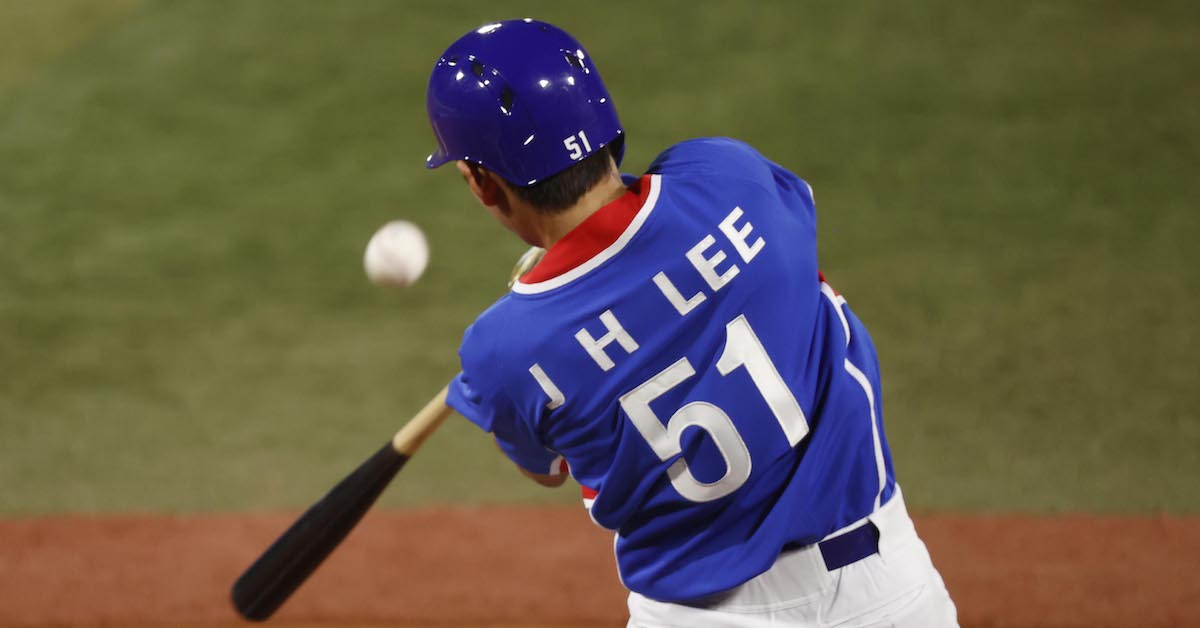 It's World Baseball Classic time! Over the next two weeks, we will see players from all over the world represent their countries in the hopes of bringing home a title. We'll be lucky enough to see MLB superstars like Shohei Ohtani, Mike Trout, and Juan Soto play for their respective countries, but viewers will also be introduced to some names and faces they might not have seen play stateside. Baseball is played all over the world, after all, and there are hundreds of players who could prove to be impactful for their teams in this tournament.
With games starting today, I wanted familiarize you with a few players who either aren't yet household names in MLB or have no experience in MLB at all. I've selected each of these players because they have a chance to be standouts on their respective teams.
Pool A
Richie Palacios and Josh Palacios, The Netherlands
The roster for the Netherlands is fascinating. There are three pairs of brothers and a bunch of current major leaguers. While Jonathan Schoop, Jurickson Profar, and their respective brothers are the more famous pairings, Richie and Josh Palacios have a shot to be just as impactful. Both had a decent size cup of big league coffee in 2022. Offensively, they're unlikely to be above average in MLB, but in the WBC, it's a different story. Josh will play one of the corners, and Richie can do the same while mixing in some second base. Their above-average offensive showings in Triple-A give them a real shot to be difference makers in a pool with very few major league pitchers. While it might be tough for manager Hensley "Bam Bam" Muelens to get these two and the Schoop and Profar brothers on the field at once, it sure would be pretty sweet!
Po-Jung Wang, Taiwan
There are a few former and current big leaguers on Taiwan's roster, but I can't help but show some love to Po-Jung Wang. With success in both the Chinese Professional Baseball League (CPBL) and Nippon Profession Baseball (NPB), he will be penciled right in the middle of Taiwan's lineup. In both 2016 and 2017, he hit over .400 with at least 30 home runs in the CPBL. That is quite fantastic! His numbers in NPB aren't quite as strong, but his .747 OPS in 2022 is more than respectable. He'll be one of the lesser-known players to try to take Kenley Jansen yard when they face off on March 11.
Pool B
Jung-hoo Lee, Korea
If you haven't already heard of Jung-hoo Lee, now is the time to familiarize yourself with him. Perhaps the very best player in the Korea Baseball Organization (KBO), Lee is going to make an even bigger name for himself in this tournament. At 24 years old, he is reaching the peak of his career and is is expected to be posted to MLB following his 2023 season with the Kiwoom Heroes. After winning the league's Most Valuable Player award with a .349/.421/.575 slash line in 142 games, he has taken the baseball world by storm. His presence on the international stage couldn't be timelier. He will lead his country's offense as they strive to secure an elimination round bid and upstage one of the tournament favorites in Japan, which also plays in Pool B.
Ray Chang, China
When I say I love a player-coach story, I really mean it. The conviction and confidence you need to coach a team while playing for it is astronomical. That is exactly why I am pulling for long-time minor leaguer Ray Chang to have a phenomenal showing. It's not his first or second go around at the WBC, either. He is one of the tournament's most experienced veterans. While I'm not sure that means much, it is an interesting storyline, and that is what many of us are here for.
Pool C
Harry Ford, Great Britain
Being a first round draft pick is enough to put you on plenty of folks' radar, but Harry Ford is still very young and has yet to play above A-ball, so I think he still qualifies. He is one of the Seattle Mariners' top prospects and was featured in this year's Picks to Click as a player likely to make next year's Top 100. He has the brightest future of any player on Great Britain's roster. He is also in a pool where he will face plenty of big league pitching, which could give us a glimpse of his future if he can handle his talented opponents. This team might be out of their league in this group, but Ford isn't. If he puts on a show, it'll be a wonderful prelude to what should be an exciting big league career.
Bo Naylor, Canada
Since we're on the topic of MLB catching prospects, let's talk about Bo Naylor. Unlike Ford, Naylor has already made his way through the minors and onto our Top 100 prospect list. He is currently ranked 45th overall, largely due to his incredible offensive season last year in Double- and Triple-A, which led to a September call-up and a spot on Cleveland's playoff roster. Naylor is a promising hitter with unique speed behind the dish. I have a special affinity for catchers who can boogey around the bases, and Naylor does exactly that. In 2022, he delivered a 20/20 season. For Canada, he will likely be somewhere in the middle to the end of the lineup, but he will be a crucial piece as they hope to get out of the second-deepest pool in the tournament.
Pool D
Alex Claudio, Puerto Rico
It's extremely difficult to pick names you don't know from Pool D, but Alex Claudio is one of the players who isn't as quite as famous as his teammates, and he will absolutely pitch high-leverage innings down the stretch if Puerto Rico makes a run like they did in 2017. A nine-year MLB veteran, he is one of those sidewinding lefties who you may not remember despite his 347.2 career innings; Claudio may have even played for your favorite team at some point. He spent all of 2022 in the Mets organization and will likely serve as one of the bridge relievers to Edwin Díaz in this tournament. In 2017, Claudio pitched in almost every game for Puerto Rico and fooled some of the world's best hitters with his funk. If all goes well, he will do the same this time around.
Carlos Rodriguez, Nicaragua
If Nicaragua wants to steal a win from Puerto Rico, Venezuela, or the Dominican Republic, it will likely involve a combination of Yankees reliever Jonathan Loáisiga and Brewers pitching prospect Carlos Rodriguez. Rodriguez is ranked 21st on Milwaukee's prospect list and has a good shot to be a decent big leaguer. He struck out over 30% of the batters he faced in the minor leagues in 2022. In this tournament, he is bound to match up against a lineup with multiple stars. It's a tall task, but if he can deliver a solid outing for his country, it would go a long way.
As a player, what better place for to make a name for yourself than on this stage? With the world watching some of the game's most famous and talented players, there is an opportunity to make an impression on folks from every corner of the planet. While the talent of the players discussed here may vary, each has a chance to stand out and help their team make a run in this tournament.