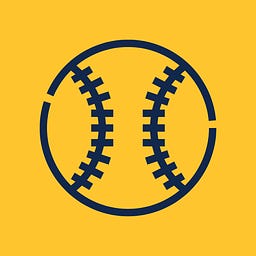 Baseball's longest season is finally over, and another season is about to begin.
I'm talking about awards season, of course. Honors for outstanding performances in 2022 will be handed out next week — Rookie of the Year Awards on Monday, followed on successive evenings by dispersals of the Manager of the Year Awards, Cy Young Awards, and Most Valuable Player Awards.
This newsletter joins in the spirit every November, announcing nine awards of my own invention.
The first three honors are unveiled below — featuring top hitters in both leagues — with more winners to be named on the next couple of Tuesdays.
It shouldn't spoil things to reveal that a certain right fielder for the New York Yankees, Aaron Judge (you've heard about his 62 home runs), dominates the categories that we're discussing today. He easily outstrips the field in all three races, putting himself in perfect position for another upcoming season — free agency.
A new installment will arrive in your email each Tuesday and Friday morning
This honor, named after perhaps the greatest hitter in big-league history, is given to the batter in each league with the best ratio of bases per out (BPO), a comprehensive stat that encompasses Williams' abilities to hit for average, hit for power, and reach base in any way possible.
Judge finished 2022 with far and away the best BPO in the majors. He augmented his 62 homers with 87 singles and 28 doubles. He also drew 111 walks, was hit by six pitches, stole 16 bases, and drove five sacrifice flies. That adds up to 529 bases, exceeding the total for any other player by more than 100.
If we divide Judge's 529 bases by the number of outs that he made (415), we wind up with a BPO of 1.275, easily the best mark in the American League and indeed the majors as a whole.
Paul Goldschmidt, the first baseman for the St. Louis Cardinals, topped the National League's Ted Williams Award race with a 1.063 BPO. The top five batters in each league are shown below:
Other sports keep track of individual scoring. Football tallies the points that each player scores by touchdowns and placekicks. Basketball adds baskets and free throws. Hockey does the same thing with goals and assists.
But not baseball. This category tries to redress the balance by adding runs scored and runs batted in, then subtracting home runs (since a single HR counts in both the R and RBI columns).
The award is named after Lou Gehrig, who generated 302 runs in 1931, the only batter ever to surpass 300 in my formula.
Judge was the sole big leaguer to exceed 200 in the scoring column this year. He crossed the plate 133 times and drove home 131 for a sum of 264. His 62 homers, of course, were pulled from the total, leaving him with 202.
Judge's National League counterpart was first baseman Freddie Freeman of the Los Angeles Dodgers, who generated 196 runs. Here are the leaders in each league:
This award goes to the hitter who flashes the greatest power in each league, which is why it carries the name of Babe Ruth.
The standings are based on a somewhat obscure statistic, isolated power, which is calculated the same way as batting average, though extra bases are substituted for hits. A batter gets one extra base for each double, two for each triple, and three for each homer. Add them up, then divide by at-bats.
Judge is again the clear leader in both leagues. He didn't hit any triples, but his 28 doubles and 62 home runs brought him a total of 214 extra bases in 570 at-bats. That gives him an isolated-power average of .375. Only one other batter, designated hitter Yordan Alvarez of the Houston Astros, exceeded .300.
The National League's Babe Ruth Award goes to Kyle Schwarber, the left fielder for the Philadelphia Phillies, whose isolated-power rate in 2022 was .286. Below are the five best power hitters in each league: